Aquaculture will bring technological advances and evolving workforce opportunities as the sector develops new species for farming, says leading Atlantic Salmon producer Frances Bender
By Frances Bender, Executive Director and co-founder, Huon Aquaculture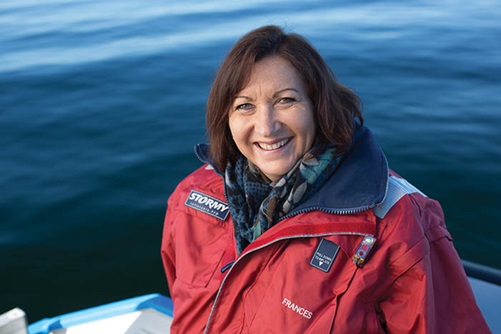 Frances Bender
Photo: Huon Aquaculture
The future landscape of aquaculture, particularly in Australia, offers some exciting opportunities. Aquaculture is the way of the future. We have a growing world population, a global decline in wild fish stocks and an enormous amount of ocean.
The only way we can feed this growing population is through aquaculture. I see enormous opportunities and I see Australia having a bigger role than we do currently.
There are opportunities with emerging species and for operations in new regions that are more remote. These will come with their own infrastructure and labour issues, but I think emerging species are a real opportunity for us.
There are gaps in our knowledge about new species. There is still so much we have to learn about salmon, although we've been farming it for decades.
However, today there are good support mechanisms for aquaculture in Australia that salmon aquaculture didn't have when it started. There is scientific knowledge, researchers on the ground, new technologies and institutions. These are now all available to support new species.
Community perceptions
I believe community perceptions and the lack of understanding about aquaculture is a major issue.
People think we are raping and pillaging the environment, when the complete opposite is true.
If we do not manage the environment that we are farming in, we do not have a business. There are genuine issues with some species and in other countries, but that is certainly not the case in Australia.
We have strong regulation of labour forces, workplace health and safety, veterinary medications and environmental management. The standard we are expected to achieve in Australia is very high.
Yet more than 60 per cent of the seafood we eat in Australia is imported, from countries without our stringent regulatory practices.
We have an exceptionally strong story to tell, not only about this regulatory environment, but also about our robust research and development and world-class science. But we need to tell it better.
Careers
Dear to my heart is the opportunity that aquaculture provides to keep regional communities alive and thriving, by creating a critical mass of highly skilled workers and employed families. That should never be underestimated.
Even though securing workers can be challenging, a career in aquaculture is attractive. It can give people an opportunity to travel and work around the world.
It can also put people at the forefront of technological changes. For example, at Huon, we recently won a national IT award for our remote feeding system, which uses artificial intelligence. The system − controlled from our headquarters in Collins Street, Hobart − trains itself as it feeds our fish in the waters off southern and eastern Tasmania. That system was developed in Tasmania.
In addition to increasing efficiency and safety, new technologies like this mean that jobs that used to involve hard physical work are now more available to women and people with physical disabilities. That is a major step forward.
The development of that technology has happened here, in Tasmania, and the rest of the world has nothing like it. Sometimes people look at the remoteness of Australia, and of Tasmania in particular, as a disadvantage and in some ways it is, but it also means we have to be innovative.
It has driven us to be different and think for ourselves.
Anticipating change
We are constantly taking action to anticipate change. The way we are farming now is completely different from the way we were farming five years ago. We are one of the first Atlantic Salmon aquaculture companies in the world to go offshore, into rough waters.
The future for the salmon industry, in particular, is offshore and that is an international trend.
The future is also onshore: growing fish for longer in freshwater on land. These changes in the way we grow fish come with their own technological, cost, and welfare and environmental challenges that require investment in expensive equipment to address.
Our company has spent $500 million on capital in the past five years in Tasmania. Aquaculture is a very capital-intensive business. It is also a long-term investment.
We have a three-year production cycle, and our planning and investment cycle is five years plus. So, a new grow-out facility costing $40 to $50 million might take five years to produce anything.
And there are threats to getting access to capital.
One of these is speculative financiers who can show productivity on a spreadsheet but do not actually produce anything. They can do a lot of damage to the reputation of the industry: people get burnt, and when the next business comes along with a better, more realistic plan, it is harder for them to get a start.
Government regulation could help prevent people who are not really interested in growing good, safe food from getting involved in the industry, but there needs to be a balance between regulation and access to capital.
Biosecurity
Biosecurity is another consideration for aquaculture. We need to be very, very vigilant in following our protocols in ports, when fishing and on farms, both aquatic and terrestrial. We should learn biosecurity lessons from overseas and not compromise on the biosecurity of any of the food we produce.
Australia has a unique position geographically; our biosecurity and lack of disease is an intergenerational asset. It is not ours to give away in the name of free trade.
Other influences
There are many other influences the industry needs to keep in mind, for example, politics. Australia is a small player in a big pond, so we need to be conscious of political decisions, trade sanctions and free trade decisions that might affect us.
Climate change is another influence. Our business is very aware of climate change, so we have been working on projects in the background such as adopting different technologies and going offshore where the water is cooler, and conducting selective breeding to cope with warmer water conditions.
Support for companies and scientists to work with governments is also key. I think there is regulatory support and enthusiasm for emerging species, but there needs to be a good, transparent mechanism for governments to work with the industry to develop business opportunities and emerging species.
Governments want gross domestic product and employment, and businesses want to be profitable.
All of this is possible and the result is that Australian consumers get to eat more Australian seafood.