By Catherine Norwood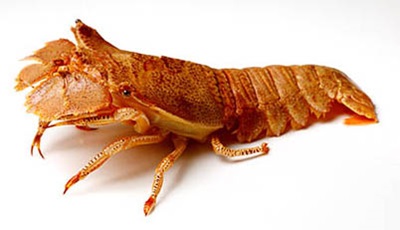 Moreton Bay Bugs can be grown to market size in about the same length of time as prawns.
Photo: ARC Research Hub for Commercial Development of Rock Lobster Culture Systems
At Toomulla Beach near Townsville, in Queensland's north, a former prawn farm is being given new life, farming two crustacean species that are emerging onto the Australian aquaculture scene: Moreton Bay Bugs (Thenus australiensis) and Ornate Tropical Rock Lobsters (Panulirus ornatus). While it will not be Australia's only Moreton Bay Bug farm, it will be a world first for Tropical Rock Lobster aquaculture.
Tasmanian company Ornatas is behind the effort to build a new aquaculture industry for these species in Australia, with hatchery and grow-out facilities in Tasmania and Queensland, respectively.
CEO Scott Parkinson says he expects the first farmed Tropical Rock Lobsters will be marketed to Australian consumers and exported to the lucrative China market by 2022. He says the company plans to produce approximately 150 tonnes of the iconic Morton Bay Bug within five years and 800 tonnes of the highly prized Tropical Rock Lobster by 2029.
Ornatus has been a long-term partner with the University of Tasmania (UTAS) in the research and development of both Moreton Bay Bugs and the Ornate Tropical Rock Lobster.
Greg Smith is leading the research team at the Institute for Marine and Antarctic Studies, which is part of UTAS, as director of the ARC Research Hub for Commercial Development of Rock Lobster Culture Systems.
This hub received a second round of funding from the Australian Research Council (ARC) – a $5 million grant over five years from 2020 – to develop commercial rearing techniques for the two species, which expands on the success of breeding and hatchery techniques. Ornatas, as industry partner, will support the program with $5 million cash and in-kind support from its Tasmanian and Queensland facilities. 
Greg Smith says research into lobster aquaculture has evolved at UTAS over more than 15 years, with early work funded by the FRDC. Progress has included completing the full life cycle of broodstock through to the egg, larval and adult stages, and breeding from the offspring of the Southern Rock Lobster (Jasus edwardsii) and Eastern Rock Lobster (Sagmariasus verreauxi), as well the Ornate Tropical Rock Lobster and Moreton Bay Bugs.
Australia's rock lobsters are grouped internationally as spiny lobsters, as opposed to the northern hemisphere clawed lobsters. Moreton Bay Bugs are part of the slipper lobster grouping, along with other Australian reef and mud bugs, including Balmain Bugs.
While the Eastern and Southern Rock Lobster have a seven and 12-month larval phase, respectively, and take five to seven years to reach market size, the grow-out time for the Ornate Tropical Rock Lobster and Moreton Bay Bug is much shorter. This makes them more commercially viable as an aquaculture species.
Tropical Rock Lobster larvae spend three to four months in the hatchery and grow to a one-kilogram market size in another 18 months. Bug larvae spend three weeks in the hatchery and grow to a 200-gram market size in six to nine months – a similar time frame to prawns. The next phase of research for these two species will focus on optimising the rearing of juveniles for market using onshore grow-out facilities, initially using raceway systems, and selection of the best-performing animals.
"We need to work out the best way to transport juveniles from the hatchery to grow-out facilities, and their feed requirements. There are no feed formulations for these species. Elsewhere they use trash fish, but that won't fly in Australia," Greg Smith says.
"We will also evaluate the potential social and economic impacts of production and the development of a new aquaculture industry for Australia."
While production is expected to begin in Queensland within months, Ornatas will also invest in a purpose-built, pilot-scale lobster hatchery co-located at the IMAS Taroona research facility.