NUFFIELD SCHOLAR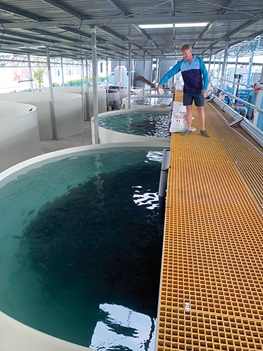 Albertus Hanekom
Albertus Hanekom from Kununurra, Western Australia, has been awarded an FRDC-funded Nuffield Scholarship to investigate how Barramundi aquaculture can grow more seafood and better manage stock levels.
He is a nursery manager for Marine Produce Australia's Cone Bay Ocean Barramundi operation in the Kimberley, which produces 3000 tonnes of prime Barramundi per year to supply Coles supermarkets and other Australian markets.
Albertus Hanekom plans to explore the viability of replicating Atlantic Salmon industry practices for Barramundi, such as more effectively using on-land nurseries to grow stock before transferring them to sea cages.
"Seed stock security is vital for every aquaculture industry, and a better understanding of the methods of on-land nursery rearing of Barramundi fingerlings will allow us to better control stock, be able to time nursery stock transfers and monitor performance more effectively," he says.
"At present, Barramundi farmers avoid producing fingerlings at certain times due to poor performance in colder months, which creates a gap in production for large-volume producers. If we can more effectively use on-land nurseries as seed banks, we will unlock better surety of supply and grow more fish in a shorter time frame."
He will explore on-farm nursery systems in Atlantic Salmon farms in Tasmania and South America and Barramundi farms in the Middle East to observe how larger stock is grown on-land and to gather insights on best management practices and associated technology uses.
More information
Albertus Hanekon
albertush@icloud.com
Nuffield Australia.
---
Farewell to outgoing chair Ron Boswell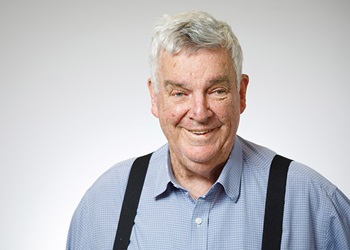 Ron Boswell
Following Ron Boswell's resignation as chair of the board after a three-year term, the FRDC and community bids him farewell and acknowledges his commitment and contribution to the Australian fishing industry. 
During his long-serving career in the Australian Senate, Ron Boswell had a well-known passion for the agriculture and fishing industries. And in 2016 he joined the FRDC Board, where he has worked actively with the fishing industry sectors – commercial, recreational and Indigenous – overseeing significant improvements, growth and change. During his time as FRDC chair Ron Boswell has overseen a number of significant milestones for the FRDC, helping the industry respond to white spot disease in Moreton Bay and taking an active interest in commercial fishers and amateur anglers. 
"Ron Boswell has been a staunch supporter of fishing in Australia and has mentored and supported recreational fishing at the highest level," says Colin Tannahill, managing director of Shimano Australia Fishing. 
"Within AFTA [Australian Fishing Trade Association] we have enormous respect for the 'legend' that is Ron Boswell and value the legacy he has created for fishers in Australia."
Ron Boswell's resignation was announced in January and the FRDC's deputy chair, Colin Buxton, will act as the chair until a new appointment is made by the Minister. The FRDC board will agree on a deputy chair at each board meeting and for the period up to the next board meeting.
---