Finding new ways of doing things to help make fisheries more efficient, safer and more profitable will be the focus of a new FRDC investment strategy
By Catherine Norwood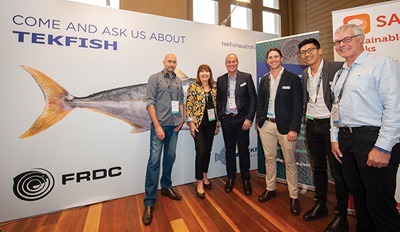 Brainstorming the future at evokeAG 2020, from left: Crispian Ashby, Christine Pitt, Rob Hulme, Cal Foulner, Wil Taing and Patrick Hone.
The relevance of a fisheries research stand at an agricultural innovation event may not be immediately obvious, but there are synergies to be found between the two sectors, says the FRDC's managing director Patrick Hone. Both are involved in meeting global food production challenges, and the operational and consumer issues that come with that.
This is part of the thinking behind the FRDC's participation in February in evokeAG, an agricultural innovation event run by AgriFutures in which emerging production and market tends, investment opportunities and technological developments are discussed.
More than 1300 people attended the two-day event held in Melbourne, including international and local speakers, innovators and potential investment partners.
Patrick Hone says solutions developed for agriculture may well prove a fit for fisheries, particularly aquaculture, and the FRDC, for one, is actively seeking initiatives with the potential to improve fisheries operations and profitability.
"Business as usual will not solve the wicked problems facing the fishing and aquaculture sector," says Patrick Hone. "We require new ways to solve complex problems together."
He acknowledges this may well involve a different approach to the funding systems the FRDC currently has in place for research, development and extension.
Research that provides new knowledge and a greater understanding of fisheries will continue to be an essential part of the FRDC's focus. However, in a move supported by the FRDC board of directors, it will also set aside a funding pool to invest more quickly and in a less-structured way in industry innovation initiatives.
These types of projects typically focus on continuous improvement – finding ways to undertake tasks and processes more quickly and efficiently, increasing flexibility and agility. It might, for example, involve capturing the information of business operations in a way that can be shared more easily or analysed to provide 'actionable information' and better decision-making.
The FRDC has already supported two such industry-driven data-capture software initiatives – Deckhand for wild fisheries, and SmartOysters for oyster and other aquaculture operators − both of which are continuing to evolve.
On the market development front, it is also an investor in Easy Open Oyster, now being trialled in South Australia. Easy Open is a robotic system that has been developed to eliminate the need for consumers to shuck oysters. It mechanically opens oyster shells, which are then resealed with wax, keeping the live oysters safe inside. If the trial is successful, a barrier to increasing oyster consumption will be removed, allowing more people to enjoy a fresher oyster experience.
Asking the right questions
For the FRDC, a crucial part of innovation investment is asking the right questions – finding issues that are common across businesses or industry sectors. For example, shucking as a barrier to fresh oyster consumption is an issue that affects all oyster producers. While the FRDC might provide seed funding, industry buy-in to the solution will be essential. The planned innovation investment is not about creating a tech product and trying to sell it, but about developing a solution to an existing industry need.
As part of the 'question finding' process prior to evokeAG, the FRDC held a workshop in Melbourne in which business and industry sector representatives trialled the Tekfish platform. Led by Christine Pitt, Tekfish has been adapted from experiences in the red meat sector, and helps to match existing or developing innovators with products and services to help solve the relevant issues. One-on-one interviews with industry and fisheries leaders are also being undertaken to identify common issues in the sector.
Attending the workshop as well as evokeAG was co-founder of the Hatch aquaculture accelerator Georg Baunach, who outlined his company's investment portfolio (www.hatch.blue), which has the potential to either provide investment or match tech projects within its portfolio.
The FRDC and Tekfish also shared space at evokeAg, with the FRDC sponsoring the session 'Who is investing in the deep blue?'. This included Australian seaweed aquaculture pioneer Pia Winberg, CEO of Austral Fisheries David Carter and founding partner of the US venture capital firm AgFunder Michael Dean, discussing trends and opportunities for innovation in the fisheries and aquaculture space.
FRDC RESEARCH CODES: 2018-199, 2019-174
More information