Recreational fishers are proving to be increasingly proactive in assisting research and gathering data to improve the management and health of fisheries resources
By Catherine Norwood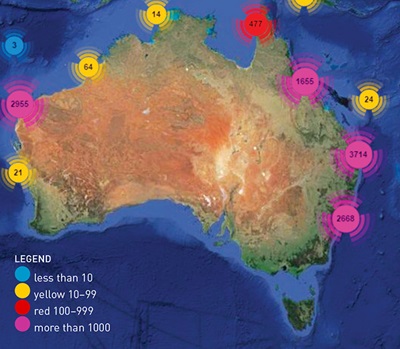 Black Marlin tagged July 2010 to June 2015.
Photo: NSW Department of Primary Industries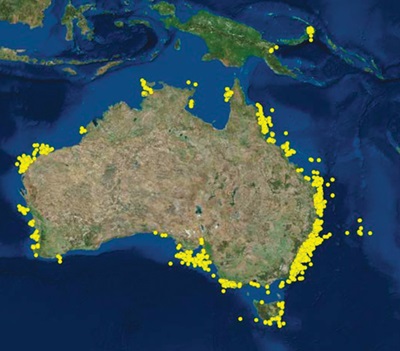 Positions of releases of tagged game fish during 2017–18.
Photo: NSW Department of Primary Industries
Recreational fishers as citizen scientists and important contributors to fisheries management was the theme connecting presentations at the 2019 National Recreational Fishing Conference, hosted by the Australian Recreational Fishing Foundation (ARFF), held in Hobart in December.
The conference drew an audience of more than 300, including many who attended as 'virtual delegates', viewing the live stream of the event as it unfolded. The live streaming allowed those unable to travel to take part and attracted viewers from most Australian states, New Zealand and the US.
ARFF chair Brett Cleary says the citizen science theme has struck a chord with recreational fishers, as well as with fisheries managers.
"There are a number of projects that rec fishers have been involved in for many years, as well as more recent programs such as the Tuna Champions. Grassroots anglers are starting to become more involved in these kinds of programs and to understand the importance of their role," he says.
"Taking part also gives them a sense of ownership of the resource, to know that they can make a difference. With that also comes a sense of obligation to take care of it."
Long-term approach
In his opening keynote presentation, marine biologist Julian Pepperell outlined the fishing community's successful engagement in the New South Wales Game Fish Tagging Program and the benefits that have come from it. The program has been running since 1973 and is operated by the NSW Department of Primary Industries in conjunction with the national Game Fishing Association of Australia.
It is the largest saltwater tagging program of its kind in the world and provides information on the biology (distribution, movement, growth, exploitation, stock structure) of billfish, tunas, sharks and sport fish around the country.
NSW DPI provides tags to anglers across the country, who voluntarily tag their catch, and provide records of the tags and catch to the program manager. Since it began, more than 460,000 fish have been tagged and 8000 fish recaptured.
In another presentation, Dean Jackson outlined the SCF Australia Research and Sustainability Competition, an initiative he has established on Queensland's Sunshine Coast. The annual event is designed to collect detailed information about the 35 target species in the competition area, using the SCF smartphone app developed by Infofish Australia. Participation in the SCF event doubled after the inaugural competition in 2018 and is expected to double again in 2020.
The focus on data collection is what makes this a "new breed of fishing competition". Dean Jackson says it's specifically about maintaining the health and wellbeing of local waterways, fish stocks and surrounding catchments.
"Fishers are keen to be part of it," he says. "The information collected will help determine what impact recreational and commercial fishing currently have on our waterways and the steps we need to take to improve or sustain them."
Dean Jackson says he is working to bring this kind of event to more locations, expanding efforts to understand and protect fisheries.
Other presentations at the conference included an update on the FRDC-funded Tuna Champions program. Recreational fishers have been leaders in this program, implementing and promoting best practice as stewards of the Southern Bluefin Tuna (SBT) fishery and contributing to SBT tagging efforts.
OzFish Unlimited outlined several of its initiatives, which include expanding its chapters around the country with a focus on re-establishing habitat to support the productivity of local fisheries. It also has projects to map rivers for snags to support re-snagging initiatives for improved fish habitat, and is mapping sea grasses in some areas.
Another Ozfish project is working to restore oyster reefs in Pumicestone Passage, Queensland, which includes helping to coordinate oyster shell recycling centres to provide the substrate for new oyster reefs.
Director of the Centre for Marine Socioecology at the University of Tasmania, Gretta Pecl, presented the latest findings from Redmap – the Range Extension Database and Mapping project – which she initiated in 2009. This national citizen science project invites people to record and share sightings of marine species that are uncommon in their local areas, uploading images via the Redmap website or via the Redmap smartphone app.
With 10 years of data, she says, Redmap clearly shows an underlying extension in the range of various species. She notes this corresponds with changes in the marine environment, mostly related to temperature. The recreational fishing sector has contributed about half of Redmap's 3000-plus entries, which again demonstrates the ability of recreational fishers to contribute to a better understanding of changes in Australia's aquatic systems.
The FRDC was a major sponsor of the national conference and, in a closing presentation, its managing director Patrick Hone identified several major challenges for the recreational fishing sector. These include:
Providing more clarity about who is fishing, when and where. This might be most efficiently achieved through fishing licences or participant registers.
Improving the abundance of fish in order to improve the recreational fishing experience and fisher satisfaction. Habitat is key in improving fisheries abundance and should be a focus of future initiatives.
Collecting data in ways that allow the sector to retain ownership of it and to optimise the support given to the sector. The approach to data collection often needs to be established before data collection even begins.
Gala dinner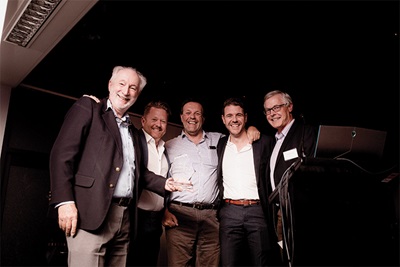 The RecFish SA team with FRDC managing director Patrick Hone (right).
Photo: Australian Recreational Fishing Foundation
The conference also included a gala dinner, where the SBT documentary Life on the Line was screened, and where the national Recreational Fishing Awards were presented.
Awardees included Sam Williams, for Innovation and Leadership; Tuna Champions, for Excellence in Research Outcomes; and VRFish, for Excellence in Recreational Fishing Communication.
RecFish SA was awarded the Project of the Year, for a reservoir restocking initiative; Matt Hansen was named Volunteer of the Year; and Fishcare Victoria was awarded the Best Project Encouraging Participation by Women and Children, for its Creating Sustainable Anglers VFA project.
Braeden Lampard was named the most successful future leader graduate, while the Mal Ramsay Lifetime Achievement Award went to Bruce Schumacher.
More information
More information about the 2019 National Recreational Fishing Conference, including recordings of the presentations, can be found at the ARFF website. The next national conference will be held in 2021.