ECOLOGY: Evolution of walking sharks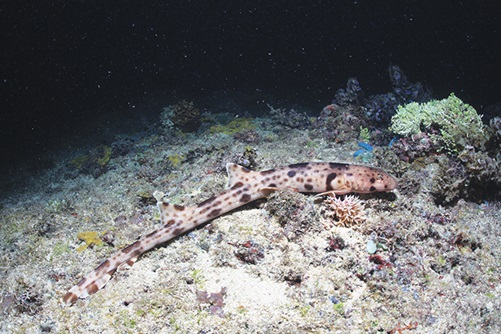 Walking shark
Hemiscyllium galei.
Photo: Mark Erdmann
The evolution of walking sharks has been reported in a new study from an international science consortium, which has also described four new species of walking sharks over the past 12 years.
The new species of walking sharks, officially known as epaulette sharks, were identified in waters around Papua New Guinea. Five other species of walking sharks were already known to science.
Lead researcher Christine Dudgeon, at the University of Queensland, says the ornately patterned sharks are the top predator on reefs during low tides, when they use their fins to walk in very shallow water.
"At less than a metre long on average, walking sharks present no threat to people but their ability to withstand low oxygen environments and [to walk] on their fins gives them a remarkable edge over their prey of small crustaceans and molluscs," she says.
Detailed genetic analysis has identified the new species, suggesting the sharks have continued to evolve in separate, geographically limited populations, adapting to dynamic local reef environments. Many other shark species remain virtually unchanged from their predecessors of 180 million years ago.
"Data suggests the new species evolved after the sharks moved away from their original population, became genetically isolated in new areas and developed into new species," Christine Dudgeon says.
The research has been conducted with Conservation International, the CSIRO, Florida Museum of Natural History, the Indonesian Institute of Sciences and Indonesian Ministry of Marine Affairs and Fisheries.
The most recent study was published in the CSIRO's Marine and Freshwater Research journal. 
---
DOWNLOAD: Disease field guide revised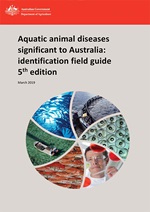 An essential resource for those working in the fisheries and aquaculture sector, the fifth edition of the Aquatic animal diseases significant to Australia: identification field guide, has now been released.
This edition incorporates new and updated information gathered from an extensive review of the fourth edition. It includes 53 aquatic animal diseases of significance to Australia that affect species of finfish, crustaceans, molluscs and amphibians.
The field guide has been published by the Australian Government Department of Agriculture and aims to help people recognise diseases significant to aquaculture and fisheries in Australia.
It is available as either a free PDF or Word document download from here or as a smartphone app from the App Store or Google Play. 
---
MEDICINE: Sea snail compound reduces cancer risk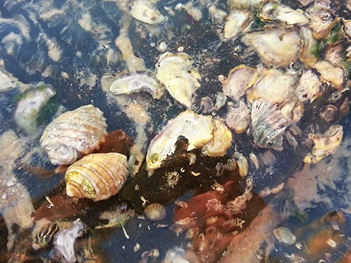 A small Australian sea snail has a remarkable ability to produce a colourful purple compound to protect its eggs. Now, the compound is proving even more remarkable for its potential use in a new anti-cancer pharmaceutical.
Researchers at Flinders University, Southern Cross University and Monash University have isolated one compound in the gland secretions from the Australian White Rock Sea Snail (Dicathais orbita), which has not only antibacterial and anti-inflammatory qualities, but also important anti-cancer properties. 
The research shows a specific snail compound derived from the secretions can prevent the formation of tumours in a colon cancer model.
Colorectal cancer is the second leading cause of the 9.6 million cancer deaths every year, with the World Health Organization reporting 862,000 deaths in 2018.
Sophisticated technology tracing the metabolism of the compound inside the body has helped to demonstrate the absence of potentially toxic side effects.
---
WORDS: 'Biomass' and 'abundance'
These definitions can be applied to any living organisms, but in a fisheries sense they are used in the following way.
BIOMASS: The total weight of a fish population.
ABUNDANCE: measure of how many fish are in a population or fishery.
Fish abundance is a measure of the number or amount of a fish in a given area. Scientists usually collect data about how many fish there are, and their size. Abundance is then presented in terms of fish biomass (total weight of fish per unit area). 
---