Sea trials have started as part of South Australia's strategy to commercialise seaweed aquaculture as quickly as possible
By Catherine Norwood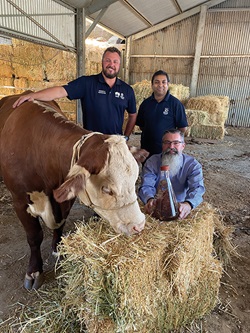 Clockwise from left: PIRSA general manager of Aquaculture Adam Main, SARDI researcher Sasi Nayar and CH4 Global co-founder Steve Meller.
Photo: SARDI
South Australia is accelerating the development of seaweed aquaculture in the state, with plans to establish itself as a global centre for the production of a red seaweed that helps to reduce methane emissions from cattle.
A pilot trial underway is focused on Asparagopsis armata and Asparagopsis taxiformis, both native to Australia. Project partners with the South Australian Government are the international aquaculture firm CH4 Global and the FRDC, with joint funding of $175,000 for the pilot.
Since the discovery of Asparagopsis' methane-reducing properties, a global race has begun to establish commercial farming operations – initially to be first to market, but also to make a dent in greenhouse gas emissions and address climate change.
With 1.3 billion cows globally, even in full production, South Australia would meet only a small portion of the potential demand.
Project partner CH4 Global is based in the US, but was founded by former South Australian Steve Meller. He estimates red seaweed could be worth $140 million to SA within three years if commercial production systems and processes can be established. Revenue from processing the seaweed could add a further $250 million per year to the state's economy and support 1200 jobs.
General manager of Aquaculture for Primary Industries and Regions South Australia (PIRSA) Adam Main says a whole-of-government approach is helping to facilitate research and development as quickly as possible, underpinning what will be a new industry for the state. This includes ensuring appropriate regulations and policy are in place, and undertaking proactive engagement with community and marine stakeholders as plans unfold.
Red seaweed
Photo: SARDI
In preparation, strategic locations within existing underutilised aquaculture zones have been identified and approved for seaweed production. Adam Main says additional areas may also be released once the most appropriate growing conditions are identified.
Finding these 'Goldilocks zones', where ocean conditions are 'just right' to optimise the growth and quality of farmed seaweed, is one aim of the pilot trial.
Farmed abalone and tuna operators have made lease space available for the first trial plots in the Port Lincoln area and the first seaweed-related infrastructure was installed in February. Aquaculture operators will help monitor the plots in coming months, in conjunction with staff from the South Australian Research and Development Institute (SARDI), the research arm of PIRSA, which is leading the trial. Mussel, oyster and kingfish farm operators are also considering how they might be involved.
New technology is also being developed for use in Australian waters that draws on techniques used in both the mussel and the oyster industries.
"We won't be using the traditional technique of manually seeded ropes – that's just way too labour-intensive," Adam Main says. "There will be a new way of doing it.
"There is an opportunity here to develop new technology, from growing to harvest, processing, packaging and feed manufacture – all new intellectual property.
"We are already looking for more partners and tapping into local and international expertise for the skills, investment and services we'll need to build a vertically integrated supply chain."
---
Cows and methane
If the world's 1.3 billion cattle were combined as a 'country', it would be the second-largest emitter of greenhouse gases, behind China.
In environmental terms, methane is 28 times more detrimental than carbon dioxide.
In Australia, cattle and other ruminant animals account for about 12 per cent of the national greenhouse gas emissions.
Australia is leading international research in this field. CSIRO livestock scientist Rob Kinley and his team in Queensland found that Asparagopsis contains chemicals that inhibit fermentation in the gut of ruminant animals. As a feed supplement, it can reduce methane emissions from cattle by 90 per cent or more.
---
FRDC RESEARCH CODE: 2019-144
More information
Adam Main, 08 8429 3514
Adam.Main@sa.gov.au
CH4 Global