The evolution towards an industry-wide approach to marketing Australian seafood continues, with government funding adding momentum.
By Peter Horvat
When it comes to the sale of its products, Australia's seafood sector has generally been slow to move away from a commodity approach to one that profiles and celebrates the nation's highly diverse and high-quality offerings.
A decade ago, marketing was largely about the final step in the transaction – promotion and advertising at point of sale. But recent years have seen an increasing sophistication in seafood marketing in Australia, with a growing focus across the whole supply chain and celebrating either provenance, place or heritage of the products.
The importance of quality, consistency and form has also been identified as critical in the marketing story. This has led to different products and messaging being developed for various markets (retail, food service, export) to support branding and, finally, promotion to consumers.
Individual businesses have been the primary drivers of this approach. However, a new $4 million marketing campaign funded by the Australian Government is expected to bring a similar strategy to the industry as a whole, creating a 'seafood brand Australia', for Australians.
As this campaign gets underway, there are a few lessons of note in the past 10 years that are worth reviewing.
Marketing levy approaches
As one of the organisations encompassing the entire commercial seafood sector, the FRDC has long worked to support industry requests for marketing assistance. However, the introduction of marketing levies through the FRDC has, without question, been the biggest non-starter on this front.
Watching the success of other food marketing campaigns, such as Meat & Livestock Australia's 'We love our lamb' campaign fronted by 'Lambassador' Sam Kekovich, led to calls for a similar campaign for seafood.
This gave the FRDC the impetus to pursue the legislative changes needed to raise a marketing levy from its stakeholders.On 12 December 2013, the Rural Research and Development Legislation Amendment Bill 2013 was passed, allowing the FRDC and other research and development corporations (RDCs) to extend their activities into this marketing sphere, if they hadn't already done so.
The FRDC and many stakeholders were buoyed by the change. However, unlike other RDCs, levies in the seafood sector are paid on a voluntary basis. This includes the research and development levy that underpins the FRDC's operations and extends to any potential marketing levy.
Although the legislative changes allowed the FRDC to raise a statutory marketing levy, there has been no industry-wide agreement to do so.
The FRDC sought further legislative amendments to permit a sector-by-sector approach instead, which would allow for a compulsory levy to be raised from all participants within a specific sector. This was approved through the Primary Industries Research and Development Amendment Bill 2017, passed on 16 August 2018.
Two sectors – wild Abalone and farmed prawns – have pursued this opportunity, undertaking the long process of addressing the government's 12 levy principles. These include developing a plan, consultation, sector vote on the levy and, finally, seeking approval from the Minister for Agriculture.
Australian Wild Abalone
The Abalone Council of Australia (ACA) has pursued the levy path although recognising that it would be difficult to get agreement from members in five states, who were often harvesting different species.
Significant work had been done, largely through the Australian Seafood Cooperative Research Centre and the FRDC investment with ACA, to develop the foundations for marketing Abalone. This included market research, brand development, traceability and engagement with key parts of the market. Undertaking the levy process was part of this work.
The aim of the levy was clear: to secure and build value and awareness for the sector, focusing on five key markets – Australia, China, Hong Kong, Japan and Singapore – as part of a market diversification strategy. It was to run as a trial for five years. The ACA consulted with industry and refined the plan in a process that took several years.
In 2019, a final version of the 'Consumer Education and Promotion Program' was completed and put to a vote. The industry ballot, which closed on 15 December 2019 and was verified by CorpVote, provided a clear outcome. More than three-quarters of those who voted opposed a compulsory marketing levy.
A key question for the ACA is now how to manage the resources developed over the past 10 years, including websites, trademarks and other collateral into the future. A number of exporters continue to use the Australian Wild Abalone® Certification Mark on their product labels and company websites.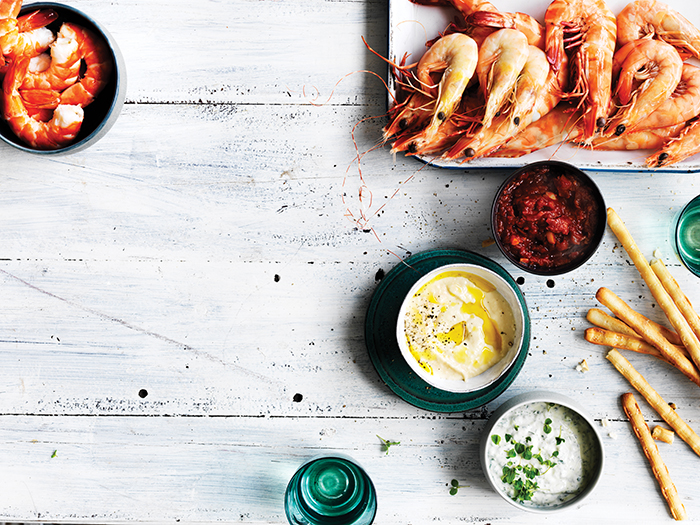 Image used in the 'Love Australian Prawns' marketing campaign. Photo: Adpower.
Prawn farmers to pave path to market
Support for a compulsory levy in the prawn-farming sector has been stronger, but not unanimous. In 2013-14, the Australian Prawn Farmers Association (APFA) first launched the 'Love Australian Prawns' campaign, a joint initiative with the Australian Council of Prawn Fisheries (ACPF). The campaign had received research and development funding from the FRDC and also the Australian Seafood CRC, with a 'shoestring' budget of voluntary contributions from industry participants.
At this time, the APFA also began to investigate a compulsory marketing levy that could in part help to fund the fledgling campaign, but which was focused more on the promotion of farmed prawns for its members. Its planning and consultation efforts were disrupted by the outbreak of White Spot Disease on farms in Queensland in 2016.
The marketing levy proposal was put on hold and the industry agreed instead to a White Spot Disease Recovery Levy. Two years on, the APFA circled back to the marketing levy. The structure of the sector had changed significantly in the interim. Further consultation was undertaken, planning was completed in early 2019, and a formal vote was held. 
Although a majority of stakeholders supported the proposal, there remained some who did not. There was also concern about the number of compulsory levies this would require from an industry only just starting to recover from the incursion of White Spot Disease. For these reasons the APFA management committee decided not to progress a compulsory marketing levy for the Australian prawn-farming industry.
While members of both farmed and wild-harvest prawn sectors contribute to the 'Love Australian Prawns' campaign, the ACPF also invested in a project that dealt with issues such as fisheries management and the sustainable harvesting of prawns unique to the wild-catch sector. The 'Australian Wild Prawn' project profiles one sector behind the Love Australian Prawns brand and is jointly funded by the FRDC and the ACPF.
Partnering on prawns
The 'Love Australian Prawns' campaign has gone from strength to strength over the past seven years, showing good returns for the investment with consumer awareness and support from retailers. Importantly, the campaign is funded totally by industry contributions from both the wild and farmed sectors.
The campaign is built on a solid base of market research, which provided a clear strategy and saw industry stakeholders all working together. The market research clearly showed Australian consumers love prawns and value them in their celebrations. And therein lies the core of the 'Love Australian Prawns' strategy – aligning Australian prawns with celebration events.
To deliver on this, the Adpower agency, led by Ben Hale, has helped develop a base of materials including different recipe suggestions and ideas – in varying flavours and with seasonally nuanced tones. The focused campaign, with professional support, has allowed the tactics used in reaching consumers to adapt to changing marketing conditions. This has been of particular importance in navigating the impacts of the COVID-19 pandemic.
A year ago, few could have imagined the campaign would actively encourage people to ask their supermarket seafood departments for three-kilogram or five-kilogram boxes straight from the freezer.
That shift to consumers bulk purchasing frozen product for later consumption has continued past the first stage of pandemic lockdowns. The bespoke and instant updating of messages and content about product is now becoming the 'new normal' for marketers. It also highlights the power and agility of digital and social media, which is now an essential part of the marketing mix.
The Love Australian Prawns committee has finalised its 2020-21 strategy, refocusing on recipe development. This is based on feedback and data indicating more at-home entertaining for small groups, as well as the fact we are now living in a time of recession. The aim is to provide meals that are inexpensive but bring a hint of occasion and joy in what will be difficult times for many people.
Ask for Aussie Barra
The Australian Barramundi Farmers Association (ABFA) has also taken charge of its own promotion and marketing, focusing on the issue of country of origin. Its industry-funded campaign celebrates Aussie Barra and its culinary aspects, while highlighting that 60 per cent of Barramundi sold in Australia is imported. So, buyer beware!
The ABFA's market research shows nearly half of Australians do not know where their Barramundi is from. To address this, it has embarked on a three-year program calling on Australians to 'Ask for Aussie Barra'.
This multifaceted program delivered by Papaya PR has both a trade and consumer component targeting genuine purchase change. The ABFA has developed a free digital cookbook using recipes created by Australia's top chefs, and it has been downloaded nearly 2500 times.
One key activity is the creation of National Barramundi Day, which launched on Friday 18 October 2019. The launch included social media, public relations and paid media partnerships with leading key chefs from around Australia. Australian Barramundi was featured at 40 leading restaurants.
The ABFA also hosted an exclusive media event lunch with one of Australia's most recognised celebrity chefs, Matt Moran, at his iconic restaurant North Bondi Fish. The event brought together Barramundi farmers, chefs and more than 20 journalists.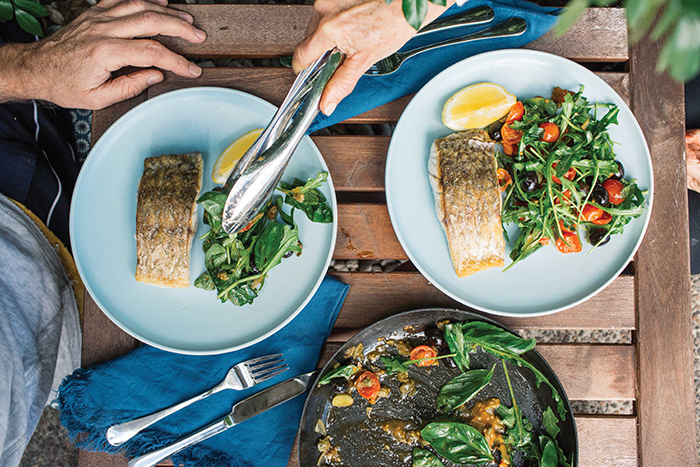 Providing recipes for consumers is an important part of the 'Ask for Aussie Barra' campaign. Photo:Papaya Agency.
The rise of the brand
The past decade, and the past five years in particular, have seen an increase in the efforts from individual fishing and seafood companies to take charge of their own marketing.
Seafood branding guru John Susman of Fishtales paved the way, helping Clean Seas to develop a complete premium marketing brand for its Hiramasa Kingfish – from the fish to the restaurant plate.
Others following suit, such as Raptis Seafoods, Spring Bay Seafoods and Petuna, promote the company and its products. Others, such as Fremantle Octopus, Glacier 51 Toothfish, Goolwa PipiCo, Cone Bay Barramundi or Two Gulfs Crab, give prominence to the origin of their product.
Branding is vitally important for the seafood industry. Consumers find it hard to tell one whole, wet fish from another. However, when it is branded, that same fish comes with the story of the fisher or the provenance of the fish, and it provides a memorable impression. The brand represents more than just the product. It is the sum of people's perception of it and the associated company's reputation.
Working with government
In a state-based initiative, the NSW Professional Fisher's Association (PFA) was funded through the NSW Government's Supporting Seafood Futures program in 2019 to create a multifaceted NSW seafood brand and awareness program. The program provided matching funds for industry contributions.
The three-month campaign aimed to increase consumption of NSW seafood, drive its value through increased awareness and consumption, and build industry capabilities and cohesiveness. It included a brand identity, message and recipes, which have been promoted via television, radio and social media. This was also supported by point-of-sale materials and a number of seafood festivals.
A major component of the campaign was the creation of eight episodes of Seafood Escape with Andrew Ettingshausen. The FRDC assisted with funding and helped to coordinate participating chefs.
Each episode showed Andrew Ettingshausen and a chef working in a different fishery across NSW, demonstrating how the catch could be cooked. These recipes are also being used as recipe cards.
The show went to air on Network Ten at the end of December and into January, and the episodes have been replayed several times since. The Sydney Fish Market, the FRDC and NSW Department of Primary Industries all contributed to the production.
Other activities of the campaign include short videos produced by Matt Blyth at Millstream Productions, that run as 15-second advertisements on TV and social media. Radio advertisements were also run across Austereo's Australian Traffic Network, with announcements after the traffic reports during the evening drive period from 4:30pm to 6pm. The message was: "NSW fishers proudly supply fresh NSW seafood to our community. Demand NSW seafood every time. It's from right here on our doorstep." The timing was focused on speaking to the consumer when they were thinking about buying dinner.
The campaign, while running over a comparatively short period, did have an impact on consumers, with post-campaign surveys showing awareness of various components. It also helped to generate community support for the seafood industry and raised the morale of fishers and those in the post-harvest sector.
Bushfires, floods and, more recently, the COVID-19 pandemic saw the campaign cut short. Most of the planned seafood festivals could not be held due to COVID-19 control restrictions.
The PFA is continuing to build on the heightened awareness of NSW seafood and is championing further engagement with consumers. It is clear industry must engage constantly with the community to achieve recognition and generate a positive response.
Future 'Eat Seafood, Australia!'
The most significant industry-wide undertaking is still to come and builds on many years of work by industry and government to deliver a national Australian seafood campaign.
In 2015, the Department of Agriculture and Water Resources began a project to improve public understanding of the seafood industry and fisheries management. While the proposed campaign did not eventuate, more recently the Australian Government has funded a new $4 million national seafood marketing campaign.
Deputy Prime Minister Michael McCormack, Minister for Agriculture David Littleproud and Assistant Minister for Forestry and Fisheries Senator Jonathon Duniam announced the campaign in June, under the $1 billion COVID-19 Relief and Recovery Fund, an initiative to help industries recover from the COVID-19 economic crisis.
Seafood Industry Australia (SIA) is leading the 'Eat Seafood, Australia!' campaign and has appointed an oversight committee, whose members have experience in big-budget marketing and consumption-driving campaigns across TV, print and digital media. These include John Susman, Tarun Richards of Humpty Doo Barramundi and Caroline Hounsell of Tassal,
as well as SIA CEO Veronica Papacosta and media and communications manager Jessica McInerney. Advice from Pork Australia and Meat & Livestock Australia is assisting with the campaign development. Activities are expected to begin in November 2020 and run for 12 months.
Clemenger BBDO Sydney has been appointed through a competitive pitching process to develop the Australian Seafood brand and launch a creative platform to encourage consumers to eat more Australian seafood.
A national approach to marketing to profile and celebrate our iconic protein source has been a long time coming. This campaign represents the industry's first steps to establish Australian Seafood as a brand in its own right, and it will set the table for future industry-led advertising initiatives.
---
Marketing skills
To help members of the seafood sector develop the skills needed to meet the changing marketing landscape, the Queensland Seafood Marketers Association (QSMA) is running a webinar series.
This follows successful marketing symposiums in 2018 and 2019.
The events, being held virtually in response to COVID-19 restrictions, began in late September and are being recorded for future reference, for those who cannot attend the live streams. The first events featured Ben Hale from Adpower discussing social media and John Susman from Fishtales discussing brands.
Topics presented in different sessions will include building a brand, establishing an online store, retail trade statistics, packaging and a beginner's guide to social marketing. For more on the symposium visit the QSMA website.
---
More information