A new guide has been created to help players in the seafood sector adopt cost-effective strategies to tell their stories and to evaluate the effectiveness of their storytelling strategies
By Barbara Adam
A handbook has been developed to help Australian seafood producers harness the power of social media to drive home the message that their product is sustainable.
The 'how to' manual guides producers through the process of developing strategies to maximise their media impact even when resources are limited. This includes engaging with influencers to help promote their sustainability credentials.
Chefs, bloggers and nutritionists can play an important role through their ability to tell influential stories about 'good' food, the guide says. But they must be selected carefully to ensure there is appropriate alignment with a producer's key message.
Media engagement: a best practice guide for the Australian seafood industry was developed as part of a series of FRDC-funded research projects by the universities of Adelaide, Wollongong and Tasmania. They were motivated by a concern that the efforts of the fisheries sector to ensure Australian seafood is sustainable were not being effectively conveyed to the community, says project lead Michelle Phillipov from the University of Adelaide.
Packed with practical advice, the guide includes best practice principles and strategies to help producers plan, carry out and evaluate communication activities using both traditional and social media.
It is designed to help producers, particularly those with limited time and resources, quickly improve their skills and know-how in engaging with the media.
Planning, the guide says, is key and should answer questions such as:
What is your objective?
Who is your target audience?
What is your most important or 'key' message?
Adopting a single, focused message – for example, that your product is sustainable – is crucial. That core idea can then be worded in different ways and presented in many forms: a story, a photograph, video, speech, advertisement, media release or social media post.
The guide provides advice on creating content for these various communication channels. This includes developing a social media profile and content appropriate for specific platforms such as Instagram, Facebook and Twitter to form relationships with target audiences. It also clearly lays out the process of working with influencers to spread messages to a broader following.
When it comes to mainstream media, the 'trick' is to present information in a media release or other form that can be easily included in news stories, TV shows, magazine features, radio programs or podcasts. Local newspapers are also an effective medium.
Big picture
The researchers produced the guide as part of a suite of projects looking at media messages about sustainable seafood, and specifically how influencers affect consumer attitudes.
The first stage of the project involved a media survey of seafood-related messages. The second stage used interviews with consumer focus groups and chefs who are influencers to identify the impacts of influencers on consumer attitudes towards the sustainability of Australian seafood.
The results are published in the report Media messages about sustainable seafood: #how do media influencers affect consumer attitudes?
The survey found that using influencers such as chefs was not a magic bullet and might not be the most effective communications strategy for all issues. While chefs can successfully influence media agendas, their influence on consumer attitudes is less clear.
Phillipov says the focus groups show there is a perception among some consumers that celebrity chefs are "elite" and that their recommendations and recipes are too difficult or expensive for the everyday home cook.
"Even when you look at an influencer or chef with a national profile, there are still segmented differences in how people engage with them," she says.
Mixed messages
The interviews and focus groups also shed light on how the notion of sustainability is used and understood in the context of seafood. Work with the focus groups made it clear that many consumers misunderstand the term 'sustainability'.
"Sustainability was often conflated with a range of other issues, like freshness, local origin and food safety," Phillipov says. "The environmental sustainability side of things was poorly understood and was not really factoring into people's purchasing decisions."
She believes this point of misunderstanding can be easily corrected. However, the findings also highlight that the safety of Australian seafood is a more significant issue for consumers than originally thought.
Media mentions
The media survey identified mentions of seafood sector news from 2015 and 2018 in the news and social and lifestyle media. It looked at news, television food programs, cookbooks, foodie magazines, Twitter, Faceboook and Instagram. The findings were published as the report Media messages about sustainable seafood (media survey results).
Key findings from the survey include:
On controversial issues, much of the industry response is reactive to stories generated from other sources (such as governments, non-government organisations and community groups).

Issues related to fisheries management receive the greatest amount of coverage in news media, with industry often responding to opponents in combative terms.

When the term 'sustainable' is used by media or influencers, it is typically not defined or explained.

Chefs and other influencers can be powerful advocates for industry, but clear alignment between their public personas and industry messages is essential for a successful partnership.
The survey found the seafood sector's messages were being conveyed effectively in the news media. However, the sustainability message was conveyed less effectively in lifestyle and social media, and these are the channels where celebrity chefs and other influencers can have the greatest impact.
Evaluating impact
The best practice guide advises seafood businesses to continually evaluate the effectiveness of their communication. This might include reviewing the online engagement analytics from social media to determine which types of posts are generating the most interest from target audiences.
The guide also provides a template to assess the impact of a range of communication activities, including an increase in positive attitudes about the seafood sector.
Building on the work of Phillipov and her team, Emily Ogier from the University of Tasmania has coordinated the project 'Engagement for success' – an easy-to-follow framework and a digital toolkit to help businesses and other organisations set up and monitor their communications and engagement strategies.
The framework helps producers evaluate their success.
"How do you know that having a stand at a seafood festival or a regional festival, or a screen media campaign, is an effective way of telling your story to the groups you want to engage?" Ogier asks.
"How do you know what the best combination of media or face-to-face activities is to achieve your communication goals, and ultimately to build trust with sections of the Australian community?"
The framework poses a series of questions to help identify the best target audience and the strategies to reach that audience. It also helps pinpoint what businesses hope to achieve from their community engagement. Is it, for example, increasing seafood consumption or encouraging people to work in the seafood sector?
'Engagement for success' evaluation resources can be accessed from OceanWatch Australia's website.
The program includes four videos and 11 downloadable PDFs as part of a digital toolkit. It is divided into three sections: Getting started, Gathering evidence and Bringing it all together.
Effective storytelling
Ogier says there are already many great examples of effective storytelling in the Australian seafood sector, such as that done by Coorong Wild Seafood from Meningie, South Australia.
"Your story could be your individual business or your product, which could be Goolwa PipiCo or Southern Bluefin Tuna, Yellowtail Kingfish or Sydney Rock Oysters."
The wider seafood sector also has a story to tell, says Ogier. Or, more precisely, a story to reframe so it reflects the factors that drive community trust and acceptance of Australia's seafood sector, namely its:
responsiveness to its environmental responsibility;
commitment to its seafood product; and
sharing of the benefits with the Australian community, particularly those in regional and rural Australia.
These insights come from the Community Trust in Rural Industries Program, a joint initiative involving all rural development corporations, including the FRDC. Ogier points to Seafood Industry Australia's 'Our Pledge' as an example of how this bigger, long-term community trust story is already being built.
Image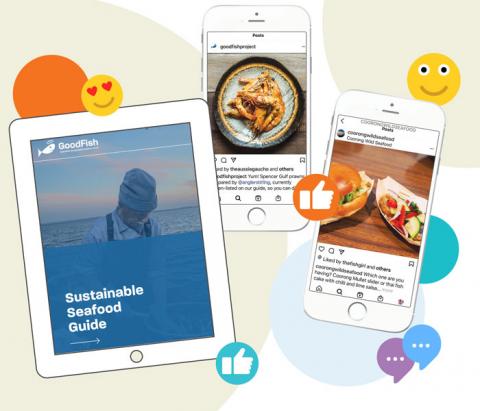 ---
Your media communication strategy
Planning
What is your objective?
Without a firm objective, a plan does not have a clear destination, which makes it impossible to know where to go. Your objective should meet five criteria that can be remembered using the acronym SMART:
• Specific
• Measurable
• Attainable
• Relevant
• Timely.
The more specific your objective, the more focused your communication strategy will be. One way to zero in on a specific goal is to answer the question:
What is the most important thing you are trying to achieve with your communication?
Implementation
Content
A single message can be communicated through multiple media in different ways. Your media messages should always be adapted for specific target audience/s, which should be clearly defined for their relevance to your overarching media communication objectives (see Figure 1).
Influencers
When using influencers as part of your communication strategy, consider the following advice drawn from the FRDC-funded research:
Most influencers used by the seafood industry are chefs, with some bloggers and nutritionists.
Select influencers carefully to ensure appropriate alignment between their 'brand identity' and your organisation's key message.
Some messages are communicated more effectively than others by influencers.
Influencers and the message they communicate should be carefully targeted to niche audiences, as broad approaches often do not have the desired impact.
Think outside the square to identify suitable influencers for your specific target audience: favour quality over quantity.
Long-term relationships with appropriate influencers are more beneficial than one-off posts of endorsement.
The terms of your agreement with an influencer should be as well defined as any other agreement with your organisation's stakeholders, clients or suppliers.
Stipulate that the influencer should be tagging your social media account in any post discussing your organisation or your products.
Mainstream media
The key to success in this sphere is to present your information to mainstream media contacts in a way that makes it simple and effective for them to include your message in their content, whether that be a masthead news story,
a TV show, magazine feature, radio program, podcast or local newspaper. This can be achieved by a media release or by communicating with journalists, producers and other
content creators.
Evaluation
What constitutes success?
Assess the effectiveness of your communication at various intervals throughout the implementation of your plan. This might include:
reviewing social media analytics;
listening to your audience online and offline to see if your target audience is repeating your message;
conducting formal research into your target audience to determine their level of awareness of your organisation and your key messages; and
evaluating the impact of your communication on your organisational objectives.
Source: Media engagement: a best practice guide for the Australian seafood industry
---
More information
Michelle Phillipov, michelle.phillipov@adelaide.edu.au
Emily Ogier, emily.ogier@utas.edu.au