The Australian rock lobster sector has struck some troubled waters of late; however, operators are demonstrating agility in their responses and confidence in an eventual turnaround
Words Catherine Norwood
Australian rock lobster has come a long way from its days as a low-priced, bulk, frozen commodity headed for casinos in the USA at just $10 to $12 a kilogram. Over the years, as fishers and exporters have pursued the best possible returns, they have improved production, handling, supply and marketing to cement the status of rock lobsters as a premium seafood product. 
Analysis of the FRDC's Seafood Production and Trade Databases over the past two decades shows how the international markets for rock lobster have evolved (see snapshots, page 34).
In 2019, at their peak, live exports achieved average prices of $72.67 per kilogram for Ornate Rock Lobster (Panulirus ornatus), $101.60 per kilogram for Southern Rock Lobster (Jasus edwardsii) and $93.13 per kilogram for Western Rock Lobster (Panulirus cygnus). 
The premium status has also lifted the value of frozen product. Even as its share of the market diminished from almost half of exports to as little as three per cent, in 2019 prices averaged $66.13 per kilogram for Ornate Rock Lobster, $86.23 for Southern Rock Lobster and $97.19 for Western Rock Lobster. 
Image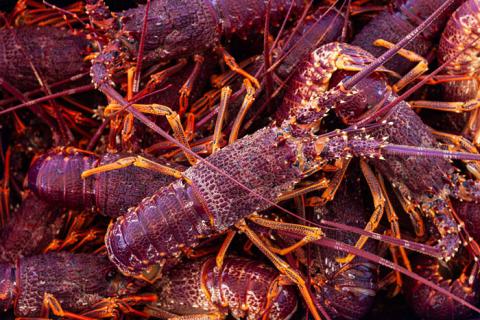 Southern Rock Lobsters
Photo: Limestone Coast Co-operative
When the China–Australia Free Trade Agreement reduced Chinese import tariffs to zero in stages from 2015 to 2018, it allowed the Australian rock lobster sector to expand direct sales into the country. With buyers there willing to pay as much as double the prices achieved elsewhere, exports to China have dominated sales in recent years. 
The loss of this critical market following the suspension of Chinese rock lobster imports late in 2020 poses clear challenges for the sector. The disruptions have led both industry and government to call for a rethink of the sector's marketing strategy; specifically, there are calls to diversify both products and destinations, and pursue more stable, long-term prices and long-term market relationships.
For many in the rock lobster business, however, price fluctuations over the past two decades and the pursuit of higher-paying buyers are just part of doing business. There is a general belief that market forces and the appetite of Chinese consumers for Australian rock lobster will prevail, and high demand and prices will return. 
However, there are others in the fishery and trade who say that each disruption jeopardises their continued participation; the impacts on their businesses, their personal welfare and the welfare of their families and local communities are too heavy.
Relationships
The MG Kailis Group is Australia's largest exporter of Ornate Rock Lobster. Its Cairns operations generated about 90 per cent of its revenue from live exports to China until the recent disruptions. The company also exports lobster tails to the USA and whole frozen lobster to Hong Kong, and supplies frozen whole lobster and tails to the Australian domestic market. 
Kailis' Cairns office general manager Brett Arlidge says he has been working with long-term customers – many of whom are Chinese companies that trade throughout Asia – to find alternative markets. Since early 2021 he has been shipping live product to Hong Kong, Malaysia, Taiwan, Thailand and Vietnam, albeit at reduced prices.
"We now have a multitude of customers taking smaller quantities, and the continued disruptions to commercial freight make the logistics of the live trade difficult. Every trade is that much harder to make."
The Australian product is filling gaps in the domestic supply in Malaysia, Thailand and Vietnam, which are now selling their own lobsters into China. Arlidge is optimistic that the current issues will be resolved over time, and the Chinese market will still want as much Australian rock lobster as it can get. He says there's also pent-up demand in other Asian countries that has been suppressed by the ability of Chinese buyers to outbid them for the available supply.
Diversification
There has been varying levels of ability among industry players to adapt to the changing markets. Western Australia has maintained processing and freezing facilities, while similar capacity for Southern Rock Lobster in South Australia, Tasmania and Victoria is extremely limited.
Ferguson Australia, based in Adelaide, South Australia, is both a fishing and processing company and has continued to innovate.
General manager Kate Birch says in the early 2000s the company developed new value-added products to make use of larger rock lobster that were being discounted in the live export trade. However, processing costs made these products comparatively unviable once beach prices for rock lobster reached $50 per kilogram.
Birch says the company has maintained its export-accredited processing facilities and is working to refresh its offerings to meet the specific needs and formats of new markets.
When the live China trade dropped off last year, the company was able to redirect some of its Southern Rock Lobster in both raw and cooked form into its already established retail and food service brands for domestic and international buyers. This includes additional sales into independent Australian supermarket chains. 
Ferguson Australia is continuing to evaluate the potential of valued-added export markets, particularly in Europe and the UK, with Australia now in discussions to establish a free trade agreement with the European Union. 
"We'd love to sell to new markets, particularly value-added product," Birch says. "We've found with other products we still have going into China that they've turned marketing on its head at the moment, through fear of COVID-19 contagion. We used to have an advantage being 'clean and green', but now our products are seen as potential sources of infection. It's a difficult position to compete with."
Figure 1: Australian rock lobster exports by value 2000–2021*
Image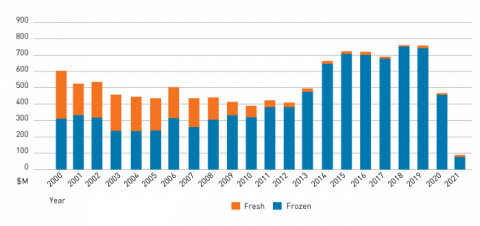 *2021 Q1 only. Source: FRDC
Figure 2: Australian rock lobster average export price $/kg 2000–2021* by species
Image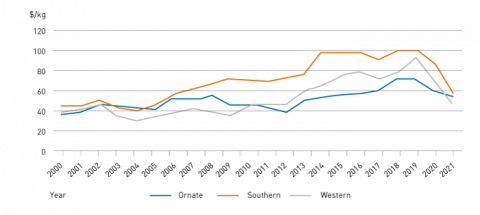 *2021 Q1 only. Source: FRDC
Community considerations
Justin Phillips from the new Limestone Coast Fishermen's Co-operative, also in South Australia, sees the loss of China markets as accelerating the rationalisation of the sector and the consolidation of quota ownership and fishing enterprises.
Much of the quota in South Australia's south-eastern rock lobster zone is still tightly held by fishing families, and the co-op was established in 2018 as a proactive local response to maintain local ownership. "Our focus is on our members, their families and communities, and making sure the benefits from the sector flow into these regional communities and are retained there," Phillips says.
Initially geared for live exports, the co-op was able to change direction last year to increase domestic sales. It also opened a shopfront adjacent to its processing facilities in Beachport, targeting tourists and locals.
While it has managed to trade successfully through the current disruptions, Phillips says the co-op's fishers have seen reductions of 50 per cent in return for their product – a genuine loss of economic activity and social benefit in these regional communities.
He says the co-op and its members will consider whether to put all of their eggs back in the China basket when that market reopens, which they believe it will.
"Should we consistently chase the highest returns or opt for a more stable business approach, playing more across the averages and putting a portion of product into other markets for lower returns, but which are 'safer' and more consistent?" Phillips says.
But long-term, lower-priced strategies are difficult for any individual organisation to implement, he says, given the highly competitive nature of the sector. Such a strategy relies more on broader industry behaviour, a collective approach that is yet to gain widespread traction. 
Phillips also advocates for a collective approach to a national branding and promotional platform that fishers and exporters can use. When market disruptions occur, that branded platform could be picked up and implemented in other markets, he says.
"I think we've been a bit complacent about that because China was so good for so long. While there is clearly still strong demand for our product in China, addressing our level of exposure to that one market is a significant issue the sector faces." 
---
Image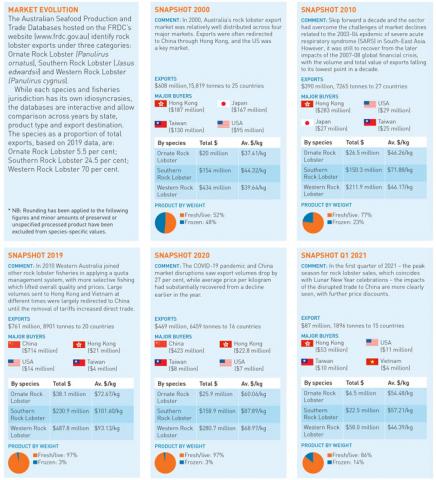 ---
More information
FRDC Seafood Production and Trade Databases