New strategies, underpinned by research, show how shared approaches can improve safety in the seafood sector
By Catherine Norwood
What will it take to improve safety in the seafood sector? For John Harrison, who leads a national safety initiative for the sector, it comes down to shared responsibilities.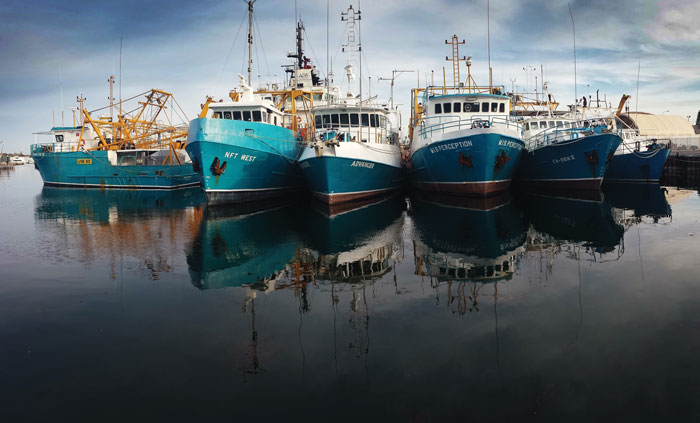 The industry, he says, needs to accept responsibility for the welfare of its people; individuals need to accept personal responsibility for their actions as well. Safety, both physical and mental, must be woven into the fabric of daily operations.
Harrison chairs the National RD&E Seafood Industry Safety Initiative (SISI), established in 2018 as a collaboration of the FRDC and the Australian Maritime Safety Authority (AMSA), with leadership support from the Western Australian Fishing Industry Council (WAFIC). Seafood Industry Australia (SIA) joined the initiative in 2019.
SISI focuses on commercial seafood operations, both wild-harvest fishing and aquaculture. It was established to help coordinate action responding to the findings from a new suite of research the FRDC commissioned into safety-related issues.
"The fishing industry partly funds the FRDC's research," explains Harrison. "When the FRDC was established 30 years ago, the priorities for industry were about better understanding the fish and fisheries – the 'guts and gonads'.
"We have a pretty good handle on that now, and the priorities are changing to include the people and our communities, to making the industry safer and a better place to be part of."
Over the past decade this has led the FRDC to branch out into the fields of market research and the behavioural and social sciences. "This research is helping us to find the triggers for behaviour change," Harrison says.
Recent FRDC safety projects have focused on collecting baseline data about the extent of workplace injuries and deaths, issues affecting the health and wellbeing of those in the sector, and barriers to the adoption of safety practices.
Fisheries accident data
The seafood industry is currently regarded as the most dangerous work sector in Australia. Between 2003 and 2013 there were 61 deaths reported – an average of more than five a year. But even that infamous reputation may hide the true extent of the issue.
Workplace consultant at Taylored Health and Safety Tanya Adams has led efforts to assess available accident data for the FRDC. She says the available data is a mixed bag. She believes data sourced from the National Coronial Information System, AMSA, Safe Work Australia and state and territory worksafe databases to be relatively comprehensive – although she knows of at least one high-profile fatality not included in these figures.
However, Adams says data on accidents and injuries greatly under-report the number of incidents, as this data only relates to claims made to the relevant state and territory government workers' compensation authorities. Many sole operators and even crew operating as share fishers may not be registered with their relevant authority and may not be reflected in these data.
That huge gap in the available information makes it hard to identify and address safety issues. And recent efforts by Adams to gather more comprehensive data as part of her FRDC benchmarking and extension have not identified any clear ways to address this, largely due to the way different agencies report incidents.
Mental health
Suicides are also not included in industry fatality data, although significant mental stress related to work factors is reported anecdotally as contributing to some instances of suicide.
Deakin University's Tanya King undertook the FRDC-funded 'Sustainable Fishing Families' project from 2016 to 2019 to identify the key health and wellbeing challenges for fishers. She conducted the first national survey of fishers on this topic.
Mental health was the highest rated issue in the survey, and levels of psychological distress among fishers were twice that reported in other industries. Factors included the 'traditional uncertainties' of weather, oceans, fishing and markets, and 'modern uncertainties' related to the regulatory environment, industry reputation and community support.
The 'Sustainable Fishing Families' project also undertook a series of health literacy workshops for fishers and their families in Victoria, to help identify and address stress factors.
King's research has provided support for several other industry initiatives including:
Stay Afloat, a Tasmanian Seafood Industry Council support program, in conjunction with Rural Alive & Well, and social media campaign to #drownthestigma associated with seeking help for mental health issues;
Project Regard, an initiative of Women in Seafood Australasia (WISA) to remove the stigma of mental health issues, with videos of people in the sector discussing their own experiences; and
Seafood Industry Mental Health Support Trial for commercial fishers, run by SIA, which provides early intervention, engagement and education for industry participants in selected fisheries.
Barriers to adoption
Not long after recognising that safety was a priority that needed attention, the FRDC funded Kate Brooks, from KAL Analysis, to identify barriers to better safety practices in the project 'What's stopping you from protecting yourself and your mates?'
Brooks says the project recognised that traditional approaches, including training and regulation, were failing to improve safety practices because they often failed to recognise the specific needs of a particular fishery or operation.
Her research found that there was often a systemic disconnect between different players in fisheries that resulted in the solution to one problem creating unanticipated hazards. For example, fishing lines weighted to deter seabirds can 'ping' back dangerously onto a vessel if pressure on the line is suddenly released. Larger nets and catches can also unbalance a vessel and bird-deterrent buoys can create entanglement risks for crew.
In some instances, the inherent structure of fisheries can also drive risky behaviour. Brooks points to 'race to fish' fisheries where fishers compete to catch as much as possible as quickly as possible, and time-limited fisheries where a year's worth of income needs to be generated within a much shorter set time period.
Added to this are profit-sharing practices, where crew are all essentially independent contractors earning their own income. This structure incentivises intensive work practices of long hours for weeks at a time, resulting in high levels of fatigue, with subsequent safety, mental and physical health impacts.
While industry does have the most important role to play in taking responsibility for the safety of its own, Brooks says they cannot do it alone.
"Safety is not just about individual fishers, or the fishing sector adopting particular practices. It has to be a holistic community effort that includes safety regulators, fisheries managers and industry working together; we need integrated solutions," says Brooks, who joined the FRDC board after completing the project. As an FRDC board member, she has worked over the past three years to bring this kind of inclusive and people-oriented approach to new research.
"Other industries have worked through these kinds of issues – long-haul trucking and the aviation sector, for instance. Fisheries can do this too." Brooks sees SISI as providing an important forum to discuss a more holistic approach to health and safety issues.
New strategies
In response to research findings, the FRDC has already moved to address gaps in the available first-step training resources, which can be tailored for specific fisheries. Its SeSAFE program is co-funded by AMSA, with contributions from the Western Rock Lobster Council and the Australian Council of Prawn Fisheries.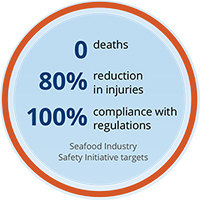 SeSAFE provides basic, accessible training modules that cover both industry-wide issues such as 'man' overboard or sun-safe practices, and industry-specific requirements such as boom safety on prawn trawlers. Modules have been co-designed with industry and AMSA, or adapted from other industry programs, including a significant contribution of training material from Austral Fisheries.
SeSAFE's principal investigator Steve Eayrs, from Smart Fishing Consulting, aims to create widespread awareness of the program within the seafood sector and to establish it as the default starting point for safety at sea by removing as many barriers to its use as possible.
The time required from skippers or business owners is minimal; they just need to select the modules they want their staff or crew to do. Eayrs can then coordinate the training on their behalf. Each module can be completed in 10 minutes or so. They are available online or offline, formatted for computers and tablets, and also are being optimised for mobile phones.
There has been strong uptake of SeSAFE in some areas, such as the Northern Prawn Fishery, where relevant modules have been completed every year or every two years by 80 per cent of crew. In other fisheries, use of the program is more ad hoc. Challenges include a reluctance by crew to do the training, often coupled with a shortage of crew. This can make it harder for skippers to insist, or to remain committed to continually repeating training in the face of high staff turnover.
At a broader level, Eayrs says SeSAFE is one of the "reasonably practicable" steps that skippers and boat owners can take to meet their workplace duty of care. He points out an accident-free history does not waive the need for ongoing safety training.
The FRDC is also set to trial a new approach to extension activities, called Sensemaker, with a focus on safety. Through surveys of individual fishers and other industry participants, the Sensemaker process would gather information about real safety-related experiences – both good and bad – and help to unpick the thinking behind how people felt and acted in those situations. This would in turn lead to strategies for mitigation.
Adams says this could provide a baseline for the industry to better identify the issues people have experienced, as well as their thoughts on possible solutions and their interest in taking on those solutions. SISI could then address specific gaps or needs identified with targeted extension programs.
Steps for leaders
Through her current FRDC project, Adams is also working to support leadership in the safety arena and modelling safe behaviour.
Demonstrating that 'safety matters' involves committing resources, including the time and money to prepare and implement a safety management system (SMS), to provide pre-sea safety training, vessel inductions and drills, and to monitor and enforce required behaviour on board.
Among the resources she has developed are SMS templates and fact sheets designed to make it easy for boat owners and skippers to meet regulatory requirements. However, the benefits of an SMS only come when the actions identified are integrated into everyday workplace practices, she says.
Her project is also identifying safety champions from diverse parts of the seafood sector, to promote improved practices from within the sector.
More information on available resources, SeSAFE and the safety champions program is available from the Fish Safe Australia website, http://fishsafeaustralia.com.au f
---
R&D Plan Outcome 2
Best practices and production systems
 
More information
Fish Safe Australia, www.fishsafeaustralia.com.au;
Chris Izzo, christopher.izzo@frdc.com.au;
https://www.frdc.com.au/issues/workplace-health-and-safety-in-fisheries-and-aquaculture