By Michelle Daw and Brad Collis
Fishing and aquaculture face unprecedented environmental, economic, technical, social and political challenges that require a collaborative response from all stakeholders.
These challenges are recognised in FRDC's Research and Development Plan 2020–25 and include improving resilience of fishing and aquaculture to a changing climate, accelerating transition to circular economies, ensuring equitable sharing and security of access to Australia's aquatic resources, increasing opportunities for Indigenous communities in fishing and aquaculture, and understanding and responding to threats and opportunities presented by alternative protein sources.
FRDC Managing Director Dr Patrick Hone says challenges inherently create opportunities but securing them will require sweeping changes in thinking and behaviour.
"The good news is that fishing and aquaculture are not grappling with these challenges alone," he says.
"As part of our strategic response, FRDC is expanding its partnerships with other aligned primary industries, research organisations, private businesses and other organisations to leverage applicable research, knowledge and experience to achieve maximum impact for all involved," he says.
"As examples, we are a strategic partner in the Marine Bioproducts Cooperative Research Centre and the Australian Research Council Centre of Aquaculture Excellence, a partner in the AgriFood Data Exchange and we are working with Agricultural Innovation Australia on pitches to government on agriculture policy priorities.
"In response to some of these challenges and opportunities, we are also seeing new players – private individuals, corporate and philanthropic entities – entering the seafood innovation space. They represent some of the different thinking that is needed, and it makes sense for FRDC as Australia's principal research investment body for fishing and aquaculture, to reach out to form dynamic new R&D partnerships."
FRDC has engaged Strategic Partnerships Manager Dr Jamin Forbes (see below) to help establish and maintain new partnerships, realise fresh opportunities, acquire additional resources and enable co-investment to deliver more value for stakeholders in fishing and aquaculture. f
---
New appointment to build partnerships
Experienced fisheries professional and scientist Dr Jamin Forbes has been appointed as the FRDC Strategic Partnerships Manager to establish mutually beneficial opportunities in R&D.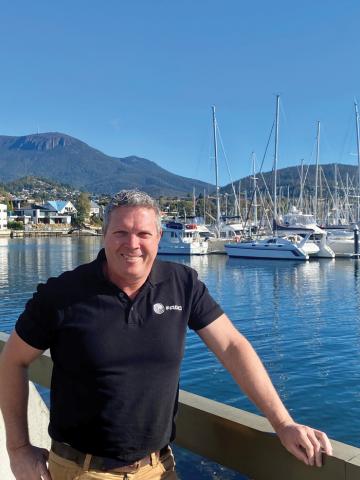 Jamin says he is keen to expand FRDC's range of partnerships to help tackle the challenges facing aquaculture and fishing and realise associated opportunities.
"I'm particularly looking forward to working with non-traditional partners outside of fishing and aquaculture, such as in agriculture, the environment sector and technology companies to achieve strategically aligned outcomes and deliver impact at scale."
Jamin, who is based in Wagga Wagga, New South Wales, has a PhD in freshwater ecology, a master's degree in biotechnology and an undergraduate degree in medical science.
He was most recently Director of Business Development at Charles Sturt University (CSU). During this time, he wrote a submission for the Southern New South Wales Drought Resilience Adoption and Innovation Hub and helped secure funding from the Department of Agriculture, Water and the Environment for the Biosecurity Training Centre established at CSU. He also helped secure the $3.8 million Next Generation Water Engineering and River Management Hub at CSU, which aims to provide eco-hydraulic solutions to improve ecological conditions and fish migration in rivers.
Jamin previously worked for the NSW Department of Primary Industries as a research scientist, specialising in recreational inland fisheries for Murray Cod (Maccullochella peelii) and Golden Perch (Macquaria ambigua) and trout fisheries in the Snowy Mountains.
He is a keen recreational fisher and previously owned a charter fishing business, which took guests on fishing trips on the Murrumbidgee River and rivers in the Top End of the Northern Territory.
Jamin has written a number of books, including the Fishing Atlas for Murrumbidgee River: Gundagai to Balranald (co-author) and Reel Time: Fishy Tales from a Serious Angler! and has been a regular contributor to fishing magazines.