Back to News
FEEDBACK/STORY SUGGESTIONS
FRDC
+61 2 6122 2100
frdc@frdc.com.au
Research on the interactions between Atlantic Salmon aquaculture and the environment was on show at a recent event in Hobart.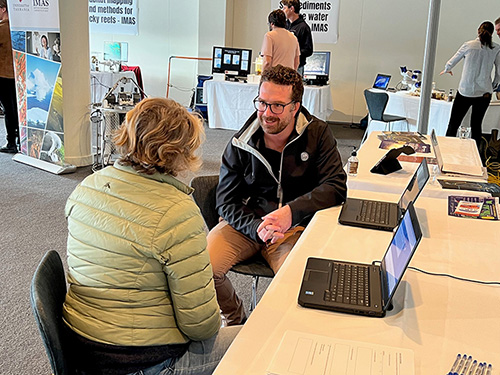 FRDC, CSIRO and the University of Tasmania's Institute for Marine and Antarctic Studies (IMAS) worked in partnership to deliver this new joint-approach, to communicate the science around salmon aquaculture at this free, community event.
FRDC, CSIRO and IMAS staff and researchers were available for the general public to speak to and learn more about their work. 
Throughout the day more than a dozen researchers spoke to visitors at the "drop-in" style event. The marine scientists explained how they undertake their field work to monitor and observe the marine environment, assess the data, develop computer models as well as demonstrated some of the equipment that is used in their work.
The event was held at the Hobart Function and Conference Centre on Elizabeth Street Pier. More than 70 people from broad backgrounds such as, salmon farmers, science teachers, marine research, tourism, community and community interest groups, dropped-in and stayed anywhere between 30 minutes to two and a half hours. Exit surveys from the event indicated that attendees were satisfied with the day and their favourite aspects included having the opportunity to talk directly with the scientists and hearing about and viewing the marine life and water samples collected during monitoring research dives around the salmon farms.
This was the first public event where the three organisations have come together to showcase their work. Some suggestions offered by attendees to consider for potential future events included, more extensive pre-promotion of the event, linking the drop-in activity to other public events already scheduled in Hobart and regions where the salmon farms are located, and holding the event next to water so that visitors have the chance to see robotic devices in operation.
Over the last twenty years, FRDC has approved and coordinated more than 120 research projects related to Tasmania salmon farming with IMAS and CSIRO being the two primary research partners. These projects have studied aspects such as environmental interactions, fish health, biosecurity and welfare and the socio-economic impacts of salmon farming in Tasmania. FRDC, CSIRO and IMAS will continue to work together to share the outputs from their work, with the sector and the public.
An example of how salmon research is developed and delivered is the Storm Bay Research Program, a suite of research projects developed under the direction of a Steering Committee. The committee is comprised of representatives from research, government and industry, including from Department of Natural Resources and Environment, Environment Protection Authority, Tasmanian Salmonid Growers Association, Derwent Estuary Program, IMAS, CSIRO and FRDC. The projects within this suite of work provide the scientific knowledge and tools to guide sustainable management of impacts from Atlantic Salmon farming in Storm Bay, Tasmania.
This article relates to R&D Plan Outcomes 1, 2, 4 and 5.