Back to News
FEEDBACK/STORY SUGGESTIONS
FRDC
+61 2 6122 2100
frdc@frdc.com.au
The new cohort of the (in-person) 2022 National Seafood Industry Leadership Program (NSILP) began their NSILP journey at a residential workshop in Fremantle on 21-23 June.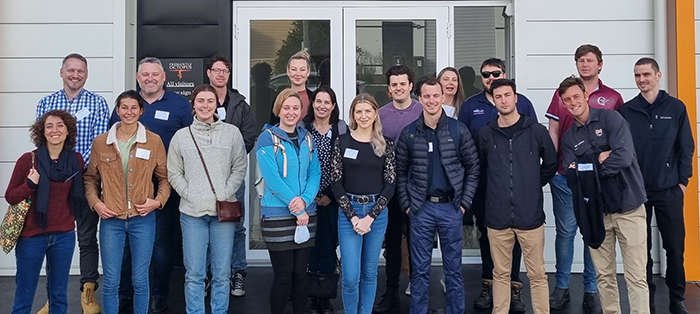 With 18 in-person participants and 15 online participants, the NSILP focuses on developing skills that participants can apply on three levels – personal, business and national industry. As well as developing their personal and professional skillsets, participants are also required to create and implement a nationally strategic vision for the Australian seafood industry.
FRDC's Managing Director Dr Patrick Hone congratulates the 2022 participants. He says the vision and energy of NSILP graduates has enriched Australian fishing and aquaculture since the program began as an FRDC initiative in the year 2000.
"We have seen people emerge from this program with improved confidence, skills and commitment," he says. "This has enabled them to transform their own businesses or organisations and positively influence the broad direction of fishing and aquaculture."
"It's also pleasing that this year we have one of our FRDC Extension Officers, Nathan Bicknell, undertaking the program."
Nathan was attracted to the program because it offered an opportunity to engage with other fishing and aquaculture people from diverse backgrounds, while also building on his practical leadership and interpersonal skill set.
"The Fremantle residential was a great mix of theory and practice, which successfully challenged and inspired participants to get out of our comfort zone, to better understand ourselves and the group dynamics. All the learnings are very applicable to my role as an Extension Officer at FRDC and I'm looking forward to the next residential in Hobart," he says.
The NSILP is a leadership program delivered through funding from FRDC and developed, managed and delivered by Affectus Pty Ltd. It is the only national, industry-specific leadership program for the Australian seafood industry and was designed in consultation and to meet the needs of seafood industry people.
Now in its 23rd year, well over three hundred graduates of all ages and from all sectors of the industry have successfully completed the program. Past participants include processors, commercial fishers, extension officers, exporters, importers, marketing professionals, deckhands, Indigenous and recreational fishers.
By the time the 2022 program wraps-up in December, NSILP participants will have the tools and knowledge to help create a positive impact on their own future, the future of their businesses and the future of the Australian seafood industry as a whole.
Support for NSILP is part of FRDC's broader commitment to developing the people who will take Indigenous, commercial and recreational fishing and aquaculture into the future.
"We are investing in developing people who can adapt and thrive in response to the many economic, technical, social and political challenges we are now experiencing," Patrick says.