Back to News
FEEDBACK/STORY SUGGESTIONS
FRDC
+61 2 6122 2100
frdc@frdc.com.au
Work has begun on a project that will be the first to capture cultural and scientific knowledge about the iconic fish species of the Narungga people, traditional owners of Guuranda, South Australia's Yorke Peninsula.
Image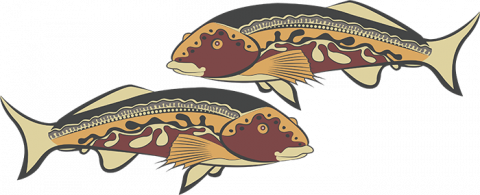 Gynburra provide food security, communal and medicinal health, wellbeing and cultural identity for the Narungga. Artwork: Garry Goldsmith.
The project is funded by FRDC and focussed on the Gynburra, also known as the Dusky Morwong or butterfish. The Narungga community are known as the "Butterfish Mob" because Narungga men traditionally waded in the incoming tide and attracted Gynburra by stirring up sediments of sand.
"Maintaining cultural practices and building knowledge and capacity to support sustainable fishing of the Gynburra on Narungga Sea Country" is led by Garry Goldsmith in collaboration with his community on Guuranda, and by Dr Paul Rogers from Southern Fishery and Ecosystem Solutions.
Garry is passionate about Gynburra and explains that the fish provides food security, communal and medicinal health, wellbeing and cultural identity for the Narungga.
"Narungga people have a strong relationship with Sea Country. Narungga totem species include sea and land animals that are centrally important to our cultural values, connection to Country and dreamings," he says.
"This project will help to enhance traditional knowledge and practices to support Narungga to preserve and sustain the Gynburra as a species of cultural and ecological importance.
"We're aiming to build foundational knowledge and capacity in fisheries science and ecological techniques to support sustainable fishing of the Gynburra. The ecological information will build self-management practice and demonstrate and strengthen cultural ownership by extending findings to the broader community.
"We want to pass down specific traditional and scientific knowledge to our younger generations to ensure the Gynburra is sustainable into the future and to highlight the species' cultural and social value.
Garry says the Narungga used to catch Gynburra as big as 1.5 m long which could feed a whole community, making them an important part of the culture's tradition of sharing.
"They also used to eat the fat from the gut of the fish, to improve their resistance to respiratory diseases like colds and influenza," he says.
Gynburra can be found in seagrass beds and near rocky outcrops. They feed on algae, marine worms and crustaceans.
Garry says there is anecdotal evidence that stocks of the species are declining.
"Over the last 10 years, we have seen a drastic reduction in the numbers of fish and the size of them," he says.
"There are a number of possible reasons behind it, which includes climate change heating up the water and land-based runoff could be affecting the food source and environment.
"A lot of the nurseries used to be in corkweed in the intertidal zone, but we are also noticing that the fish don't appear to be breeding in those areas or accessing their usual environments."
The project encompasses techniques to locate nurseries, biological sampling and examination of speared fish during the annual cultural season and Gynburra Festival.
The Gynburra was traditionally hunted with harpoons on reefs with the incoming tide. Men would wade in the water and often make slight movements with their feet to stir sand which would attract the inquisitive and somewhat docile fish. As the fish circled and ventured closer, the men would harpoon them with spears.
The tradition of hunting Gynburra continues and has been celebrated for the past 50 years by the Clem Graham Senior Memorial Butterfish Competition for Narungga men and boys, which recently opened up to the broader community. The tradition is also celebrated by the Gynburra Festival at Port Victoria which offers activities for all and will be a drawcard on 27-28 January 2023, when interim results from the project will be presented.
Image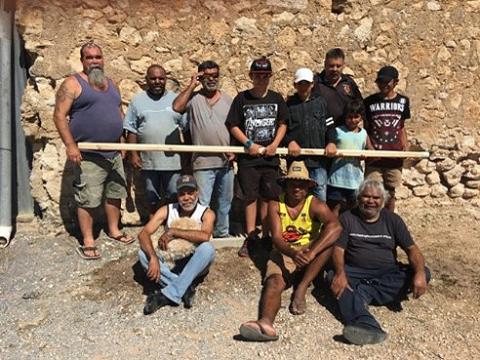 Narrunga men and boys take part in a workshop on making traditional spears to hunt Gynburra. Photo: Garry Goldsmith
Educational materials will be developed for the SA School Curriculum via the Department of Education's South Australian Aboriginal Context in Science Initiative.
The project addresses the priorities of FRDC's Indigenous Reference Group, including: primacy for Indigenous people, acknowledgement of Indigenous cultural practices, self-determination of Indigenous rights to use and manage cultural assets and resources, and capacity building opportunities for Indigenous people.
"FRDC's support is invaluable to this process of helping our community find out as much as we can to preserve this species and its environment," Garry says.
"We want to ensure future generations continue to have connections to Sea Country as our ancestors have for thousands of years. The success of this fish will be the success of our community."
The project will support skills development in fishery science and stewardship for Narungga people. It aligns with the Narungga Nation Traditional Fishing Agreement and the Buthera Agreement between the SA state government and the Narungga Nation Aboriginal Corporation.
More information: Project 2021-050