Recording customary fishing techniques provides new tools for sharing stories and teaching the wider public about traditional practices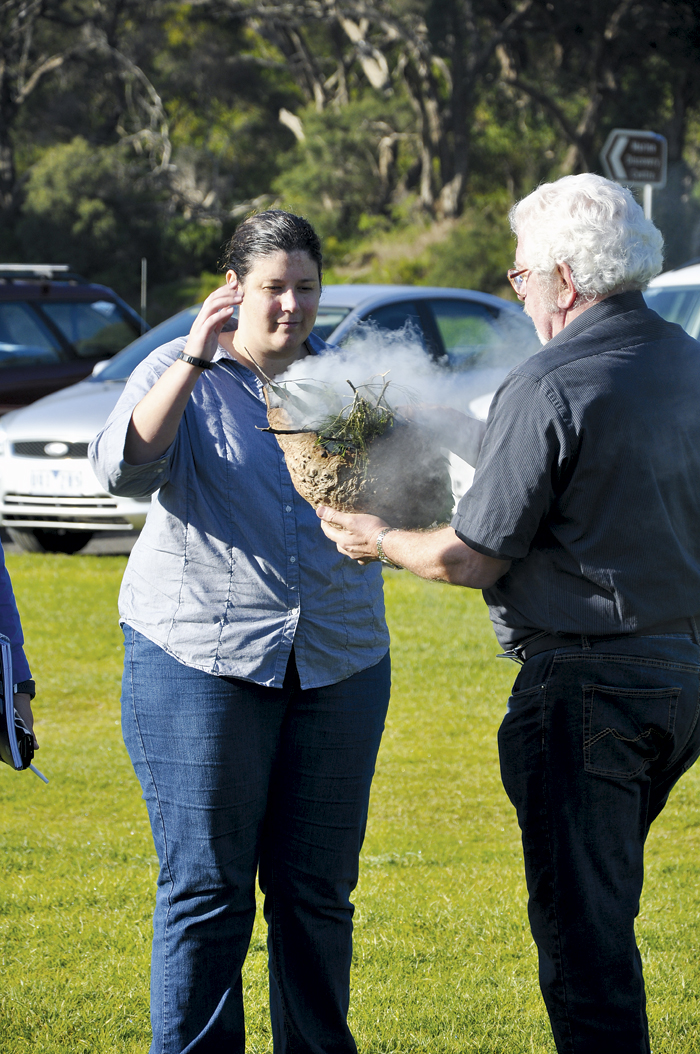 Angela Jeffery with Wadawurrung Elder Bryon Powell conducting a traditional smoking ceremony. Photo: Fisheries Victoria
By Ilaria Catizone
"Do you want to know who I am? I am a Wiradjuri," says Angela Jeffery proudly during our first conversation. The Wiradjuri people are a group of skilled hunter-fisher-gatherer Indigenous Australians who lived in clans scattered throughout central New South Wales. Many Wiradjuri people still live within the area today.
Growing up in central NSW and later moving to the Gold Coast, Queensland, Angela Jeffery loved fishing with family and friends, so she is thrilled that her posters about customary fishing methods will help Indigenous communities record their traditions in a new way.
The posters were produced thanks to an FRDC Indigenous Development Scholarship. However, the inspiration came from Angela Jeffery's fisheries management studies at Southern Cross University, where one of the associate professors, a local Indigenous man, made sure the Indigenous perspective was represented within the syllabus.
After completing her marine science and management degree, Angela Jeffery contacted Fisheries Victoria about its Aboriginal Fishing Strategy. She became the first trainee in its Aboriginal trainee program, based at Fisheries Victoria's Marine and Freshwater Discovery Centre at Queenscliff.
Driven by a desire to learn and to give a useful teaching tool back to the wider Indigenous community, Angela Jeffrey has used her FRDC scholarship to investigate Indigenous fishing practices, compiling her research into two posters detailing these practices, which are now part of the discovery centre's collection.
"Angela was magnificent," says Leanne Gunthorpe, manager of the fisheries education group. "We used to only briefly mention Indigenous fishing in our talks, but now we have fantastic props to help us expand our program."
Raising awareness
The Freshwater Discovery Centre aims to provide education services that create awareness about the importance of commercial and recreational fishing and the marine and freshwater environments. It promotes responsible fishing and informs non-fishers on the cultural, recreational and economic value of fish.
"Approximately 30,000 schoolchildren visit the centre every year, but our reach is much greater, thanks to activities for adults and our presence at numerous festivals around the region," Leanne Gunthorpe says.
"Angela has now provided us with great resources that will help us inform the Australian public of traditional fishing methods."
One of Angela Jeffery's posters reviews traditional Australian fishing methods, past and present, while the other focuses on the fishing methods used by the Wadawurrung people, who are the Traditional Owners of the area where the discovery centre is located.
"We were very happy to contribute information to Angela's work," says Sean Fagan, cultural heritage projects officer with the Wathaurung Aboriginal Corporation.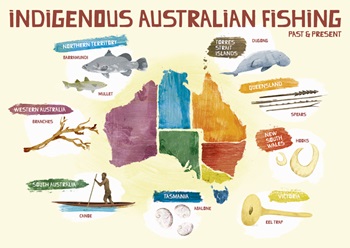 "Projects like hers are extremely valuable to our community as they provide a strong sense of place for young Wadawurrung people as well as raising awareness among other Australians about our culture and the fact that it is still alive today."
Sean Fagan says the use of the Wadawurrung traditional language in the poster was particularly important, as most Australians do not realise that many commonly used words are in fact Wadawurrung words, such as Ballarat (resting place) or Geelong (tongue).
Sean Fagan and the Wadawurrung people are planning to include the poster in their school outreach activities where they discuss cultural traditions of the region.
For Angela Jeffery, one of the highlights of her work was learning about different Indigenous community fishing techniques during the project.
"It was important to ensure that the Wadawurrung were comfortable with the release of traditional information, the way it was being represented, and all of the drawings had to be designed specifically for each area."
She also visited the National Museum of Australia in Canberra to learn about fishing practices in communities too far away for her to visit in person.
"After gathering so much information, deciding what to include in the posters was the hardest part of the process," she says.
"But overall it was a very rewarding experience. I am particularly proud of how my work will help the communities involved to record their own traditions in a new way."
The result is two posters that clearly and simply portray several Indigenous fishing methods, tools, vessels and cooking and feature the different roles of men and women.
The posters
The national poster is a series of snapshots outlining one unique fishing technique for each Australian state and territory, and the Torres Strait. In NSW, for example, chewed shellfish and shaped shiny shells were used as bait and lures, whereas in Arnhem Land in the Northern Territory people wove barrier nets to trap fish in small creeks and streams.
In Victoria, trapping was also used but mostly to catch eels, with long woven cylinder-shaped tools placed strategically in weirs. Spears and harpoons were used in Queensland and the Torres Strait Islands respectively; some of the spears were made using human hair and some with a stingray barb.
Remarkably, Indigenous Tasmanian people stopped catching fish about 3500 years ago and focused on collecting shellfish instead. In South Australia, men often used simple bark canoes to fish, while women used rafts they made themselves to find and collect freshwater mussels in lakes.
The poster also highlights the many ways in which fishing is important to Indigenous Australians. Not only is it a source of food and something to exchange through trade and barter with neighbouring tribes, but it is also an integral part of many social interactions, such as traditional ceremonies and customs that adults can pass on to children.
Throughout their thousands of years of history, Indigenous people valued and understood the importance of safeguarding water resources, so clan laws and customs ensured fish were harvested sustainably, enabling future availability of food and materials from the water.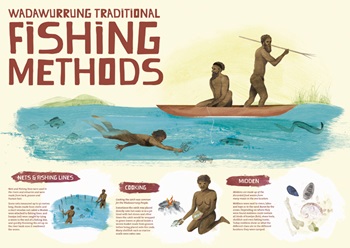 The 'Wadawurrung Traditional Fishing Methods' poster shows in greater detail the fishing customs and history of this tribe from southern Victoria. Traditional fish names are used throughout and a map which shows some of the traditional names of places in Wadawurrung Country is included.
The poster also provides a list of the names of the 25 clans that originally made up the Wadawurrung language group. Many of the tools and techniques described are still in use now except for the more ancient methods, and the study of middens has been particularly helpful in establishing what different clans ate.
Middens are made up of discarded food wastes from many meals in one location and offer a unique insight into the eating habits of each clan throughout time.
Wadawurrung people would cook most of their seafood, with the exception of shellfish such as marine snails, which would mostly be eaten raw. Even in their canoes they would often have a small clay fire pit to cook the animals they caught and to provide fish-attracting light at night. The canoes were fabricated from a single piece of bark shaped over fire.
Angela Jeffery arranged for the replication of a traditional spear and net to accompany the posters. This will give visitors to the Freshwater Discovery Centre a more complete experience thanks to the opportunity to handle the artefacts and really understand how they worked.
With a view to expanding the program to be better integrated into the school curriculum, these posters are the first of their kind and an important step towards maintaining Indigenous traditions in Australia.
Poster Illustrations by Fluid Design
*The posters are available for download here.
Scholarships
The FRDC will offer two Indigenous Development Scholarships in 2014, with applications closing on 23 April 2014.
For more information contact Jo-Anne Ruscoe (02 6285 0400, jo-anne.ruscoe@frdc.com.au). 
FRDC Research Code: 2008-326
More information
Angela Jeffery, 03 5258 3344, angela.jeffery@depi.vic.gov.au