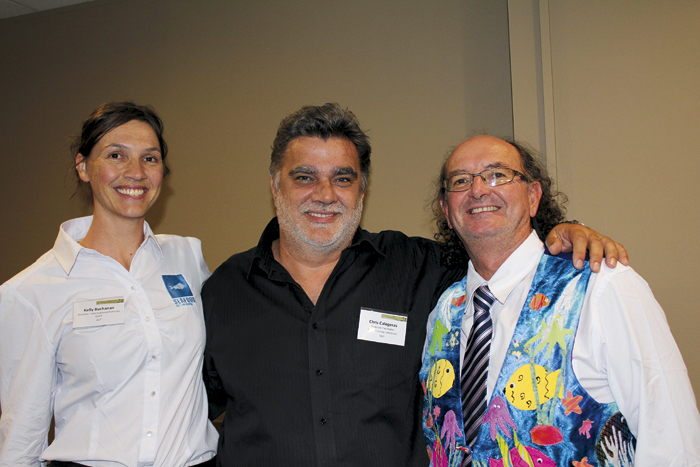 NSILP graduates Kelly Buchanan (left) and Bruce Davey (right) with program co-ordinator Chris Calogeras.
By Catherine Norwood
Now in its 14th year, the National Seafood Industry Leadership Program (NSILP) is going from strength to strength, with graduates taking leadership roles in a number of state and national industry and government organisations.
One of the most valuable aspects of the program has proven to be the diversity of participants, and the opportunity to share their perspectives of the industry, says program leader Jill Briggs, of Rural Training Initiatives.
She says it is a specific strategy, in choosing the 15 or so candidates for the program each year, to include people from a variety of sectors within the industry, including wild catch, aquaculture, recreational, Indigenous, processing, retailing, research, government and training.
"That way everyone gets a broader understanding of the industry, and can see that they are part of a much bigger picture."
The 2013 graduating class is a good example of this cross-sectoral approach, including:
Kelly Buchanan, director of the International Fisheries Section in the Department of Agriculture;
Tony Charles, hatchery manager at Australian Prawn Farms, in Mackay, Queensland;
Ben Cobbing, a Tasmanian abalone diver based at Smithton and director of the Tasmanian Abalone Council;
Bruce Davey, a long-time fisher based in Darwin, Northern Territory, fishing in the Gulf of Carpentaria;
John Cordin, business development and sales manager for Austral Fisheries;
Dan French, a fisheries researcher and director of Frenchenviro, a consultancy specialising in sustainability, environmental assessment and ecosystem design;
Matt Gillett, policy officer with Recfishwest, the peak body for recreational fishers in Western Australia;
Steve Groom, finance manager and company secretary of Sydney Fish Market;
Dimitri Hari, retail operations manager for Transtasman Fisheries, based at Sydney Fish Market;
Chadd Mumme, aquaculture lecturer for Trades and Primary Industries at Charles Darwin University;
Andy Myers, OceanWatch Australia extension officer for New South Wales;
Matt Osborne, an Indigenous development consultant with the public sector agency Rural Solutions SA;
Scott Parkinson, breeding manager at Shellfish Culture Ltd, Clifton Beach, Tasmania;
Clive Perryman, a Tasmanian rocklobster fisher, board member of the Tasmanian Rock Lobster Fishermen's Association, and fisher participant in the Seafood Industry Partnerships in Schools program;
Katie Scutt, who works with the Australian Fisheries Management Authority in Canberra, focusing on northern and western Commonwealth fisheries; and
James Ward, general manager of the NSW Fishing Industry Training Committee.
The program requires participants (and their businesses or employers) to commit nine days to the program. Funding for the training is provided by the FRDC and co-sponsoring industry partners.
Sydney Fish Market is the program's gold sponsor. In addition to learning leadership skills and having access to industry networks, participants also break into groups to undertake a specific research project.
There was one whole-of-team mission and four smaller group projects in 2013.
One group identified the need for a 'blue sky think tank' for the fisheries industry to generate new ideas and research directions; a grant application has been developed to support this proposal.
A second project involved interviews with 300 people to identify communication barriers between peak bodies and national and state agencies, and the grassroots members of the fishing industry. The group found that information was not filtering through as effectively as
it could.
A third project looked at the potential for QR codes to provide information about the source of seafood as it progressed through the supply chain, and determined that they provided a highly effective means for linking relevant information with products.
The fourth project (before the 2013 federal election) prepared a communication strategy to ensure the new minister responsible for fisheries was aware of key industry issues. This resulted in members of the group working on this project securing a meeting with the senior adviser to the Minister for Agriculture following the election.
Jill Briggs says the leadership program has been designed in consultation with the seafood industry and focuses on developing the skills of its participants at three key levels – personal, business and national industry. Handling conflict, improved communication techniques, high-performance team building, change management and media training are also part of the program.
The 2014 program is in the process of being finalised. Applications for the 2015 program will open in November 2014. 
FRDC Research Code: 2012-401
More information
Jill Briggs, 02 6035 7284,
jill@ruraltraininginitiatives.com.au