As a leading fisheries 'knowledge broker' and scientist, Ian Knuckey says the active involvement of fishers from all sectors is essential to improve resource management and ensure a sustainable future for fisheries
By Elisabeth Howie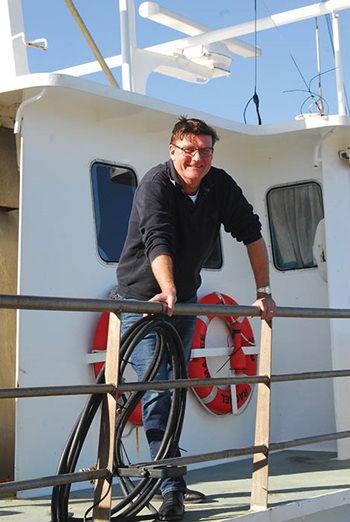 Ian Knuckey
Photo: Craig Watson
What does it mean to fish well? For long-time fisheries scientist and consultant Ian Knuckey, the heart of 'fishing well' is about ensuring that future generations can enjoy the abundance of seafood as much as we do.
It is also a principle that has driven his career for more than 30 years, working on diverse projects to reduce bycatch, improve stock assessments, empower industry research and development and, crucially, partner directly with fishers to improve practices.
Knowledge broker
Early in his career Ian Knuckey realised the shared benefits that science extension brings to researchers, managers and fishers.
During a six-year stint in the Northern Territory he led a mud crab research program with the NT Department of Fisheries. It earned him a PhD in fisheries population dynamics and a taste for communicating fisheries science to fishers. He spent weeks on end with his 4WD and a dingy, working on the mud crab fishery at the isolated crabbers' camps around the Gulf of Carpentaria and the Roper and McArthur rivers. Most fishers then were Vietnamese and Cambodian, so he ensured that everything the department produced on mud crabs was translated from English and published in newsletters for the fishers.
Being out in the field required Ian Knuckey and his team to get even more creative, often with the assistance of a white ute and a little Honda generator.
"There we were," he says, "12 to 18 hours' drive out of Darwin, a thousand kilometres from anywhere in the remotes of the Northern Territory, projecting slideshows about the science of mud crab population dynamics onto the side of our ute for the fishers. It flavoured where I went from there on, in terms of getting science out to people."
The pivotal moment came from a conversation with his technician, Paul Johnson, during his time in the NT. "He said to me, 'You know Knucks, even though you work for the department, your real clients are the fishers'. And that has stuck with me."
Following many government research positions, Ian Knuckey says he has no regrets about branching out on his own 17 years ago to start Fishwell Consulting, basing himself and his family in the Victorian coastal township of Queenscliff. "It was a big thing at the time, moving away from the security of a government job to the 'dark side'. I simply couldn't have done it without the support of my wife, Jane, and overall it has benefited both my career and family life."His work has taken him and his family all around Australia and to many overseas destinations, from the wild oceans of Tasmania to the tropical waters of Indonesia, dealing with fish, sharks and crustaceans, with inshore fisheries and those in deep waters.
"I really enjoy the variety," he says. "One week I'll be doing a survey on scallops in Bass Strait, another working with snapper up off the Northern Territory, tropical rock lobsters in the Torres Strait, and then trawl fisheries off Tasmania after that."
Sustainable practices
Ian Knuckey says projects that improve the sustainability of commercial fishing practices have been very rewarding. Over his years in fishery research he has run various projects that have led to increased size limits for mud crabs, reduced bycatch in trawlers through small changes in net codends (the end bags of trawl gear), and improved handling of shark bycatch.
Other projects have resulted in changes to net material in haul seines to reduce catches of small fish 'gilled' in the net, the transition of shark fishers from gillnet to longline to reduce interactions with threatened sea lions, and reductions in the incidence of bird strikes on trawl warps.
"Across all of these projects though, one of the learnings is that industry has to be in a good financial position to enable these changes to happen," he says.
The economics are a major consideration in fisheries management, as commercial fishers increasingly pay for the management of resources on a cost-recovery basis. Part of Ian Knuckey's contribution in this sphere has been to lead the design and implementation of lower-cost fishery surveys.
"Fisheries managers are now asking for detailed information on what's out there in terms of stock abundance," he says. "We try to implement cost-effective ways of getting this information, often organising support from industry vessels."
The stock assessment process gives managers and fishers an annual index of the fish biomass. This information feeds directly into harvest strategies and management decisions, including the setting of total allowable catches.
"We've done surveys for scallops, fish, sea cucumbers and crabs. And we try to make sure that industry is directly involved in the work so that they have a better appreciation of what's required, and are supportive of the work being done and the results it produces."
Road to empowerment
Giving fishers – whether Indigenous, commercial or recreational – the knowledge and power to get involved in fisheries management and make a difference is an important part of what he does.
"When fishers understand what scientists and managers are talking about, and vice versa, assessments and the sustainability of fisheries can be greatly improved," he says.
To help address this, Ian Knuckey has developed a series of videos explaining aspects of the biology and population dynamics of fish, as well as fisheries data, stock assessments, harvest strategies and economics.
He sees an ongoing need for fishers in all sectors to be more actively involved in decisions about fisheries' access and allocation, particularly for Indigenous communities. One of his recent projects, with the FRDC's Indigenous Reference Group, is providing capacity-building workshops to help support Indigenous Australian involvement in fisheries management and fisheries management forums (see "Common ground").
"I'm finding it really rewarding in terms of what participants are getting out of it and the opportunities for them to have a greater involvement in different fisheries and fishery jurisdictions," he says.
"There needs to be a proper balance of fisheries management across the different sectors. When you're just working with commercial fisheries, you're all speaking the same sort of language and generally that's related to money and economics.
"But one of the difficulties when you start working with the different sectors is that you've got social, spiritual and a lot of other metrics to consider that don't just relate to economics."
He says as our population increases, balancing all those different metrics and expectations will be quite challenging for fisheries managers and for the Australian community in general. However, it will be essential to the future of these finite resources that must be managed and fished well to prosper.
More information
Ian Knuckey
ian@fishwell.com.au