An unexpected champion drives innovation to bring premium, Australian-harvested tuna to more markets
By Sue Neales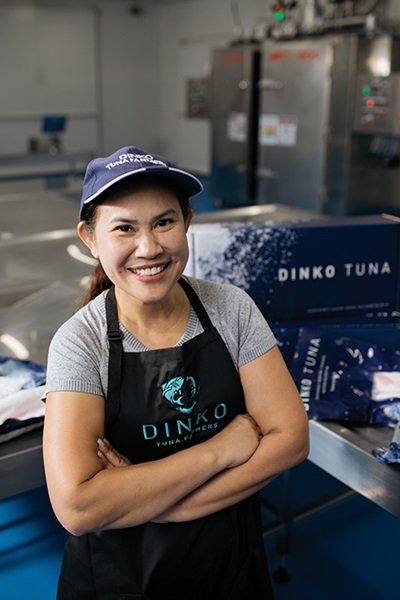 Lukina Lukin
Photo: Robert Lang
Think of Australia's prized Southern Bluefin Tuna (SBT) fishery, its macho capital of Port Lincoln, South Australia, and high-profile tuna tycoon families; it's an unlikely idea that one of its leaders could be a slight but steely Thai-born woman.
Yet today Lukina Lukin, 54, is the only female owner and chief executive of a major SBT company, and her $5 million business Dinko Tuna has a reputation for producing some of the highest-quality tuna in the world.
She has come to be regarded as one of the brightest and most innovative leaders in Australia's $150 million tuna industry.
It is an extraordinary journey that began in 1997, when young Lukina – on a teacher exchange to Port Lincoln from her homeland – married Dinko Lukin, one of the then-millionaire giants of the tightly held wild-catch SBT industry. He was also the inventor of the pioneering net system for catching wild young tuna at sea and bringing them back alive to Port Lincoln to be 'ranched', fed and fattened in net cages closer to shore.
When Dinko Lukin died in 2011, he left his business to his wife to run as best she could, armed with the years of expert training he had given her.
Few of the tough Port Lincoln tuna industry kings believed Dinko Tuna would last and many offered to buy out the business, along with its valuable SBT allocation.
At the time, even Lukina Lukin was not sure whether she could turn the enterprise around. The farm's ranching nets were old, allowing seals into the tuna pens and there were high levels of fish mortality. The 30-year old fish processing plant had leaky refrigeration and expensive power needs, and there was a $32 million debt. It was a big ask.
Dinko Tuna also had the smallest SBT quota of all the Port Lincoln companies, which collectively hold 90 per cent of the national allocation for the species.
"I might be the smallest tuna farmer but because Dinko taught me everything before he passed away, from net mending and fish feeding to running the business and meeting with the banks and buyers, I have always been determined to give it 100 per cent," Lukina Lukin says.
"I gradually upgraded all the equipment [at Dinko Tuna], replaced the nets, reduced fish deaths, sold some assets, got rid of all the debt and made the business profitable, and I'm still farming the same quota today."
Based on the current national SBT allocation she can catch just 223 tonnes a year of the prized fish. Fattening the fish in cages for four to six months until they reach about 30 kilograms each results in just 360 tonnes of SBT to sell annually. 
In the past nine years Lukina Lukin has established herself, against the odds, as one of the leading figures in Port Lincoln's male-dominated tuna industry, and in the broader seafood and fishing world. 
For several years, she was the only woman on the board of the powerful Australian Southern Bluefin Tuna Industry Association (ASBTIA); in January, she was joined by another female director. Every innovation she has introduced at Dinko Tuna – and there are many – is closely watched and often followed.
Increased global competition has seen the prices Japanese buyers pay for frozen whole Australian SBT drop in recent years from  ¥2500 per kilogram to the current ¥1450 per kilogram (A$21 per kilogram).
However, Lukina Lukin has been leading the search for new markets, innovative tuna products and value-adding opportunities. She has pioneered entry to markets in China and into the luxury Australian market, which currently relies on imported Indonesian-caught Yellowfin Tuna for year-round supplies.
To tap into this market, last year Dinko Tuna invested more than $1.2 million in a new processing facility to value-add a greater proportion of its 10,000 fattened fish production. The equipment includes several cutting-edge $100,000 snap-freezing cabinets that use liquid nitrogen to freeze tuna portions down to –60°C in 45 minutes.
This process results in flesh that, when thawed, is almost indistinguishable in quality, texture and taste from fresh fish.
Lukina Lukin's strategy is to cut the freshly harvested whole fish into smaller, more manageable portions, with the head and tail removed. This results in four SBT 'loins' – deboned and skinned prime cuts of about three kilograms each.
Despite the higher labour costs involved in processing the loins, she is certain growing sales will follow; Australia's top chefs, hotels and restaurants, previously unable to handle or portion out an entire SBT every week, can now buy the loins and add the delicacy to their high-end dining menus, either as sashimi or cooked.
Already restaurants in Melbourne, Sydney, Adelaide and Perth have embraced the product, including Del Giorno's Café in Port Lincoln, La Luna in Melbourne and Wills Domain in Margaret River.
"Eventually I'd like to balance my Japan market with 50 tonnes going annually to China and 25 tonnes into Australia. My dream is to one day be able to supply ready-to-eat tuna cut as sashimi in a pack, together with wasabi, chopsticks and wine, as a special treat anyone can grab and enjoy sitting in a park or at home."
Despite the downturn in prices, Dinko Tuna has been able to maintain prices at $57 a kilogram wholesale, with a focus on quality, which includes feeding the SBT local sardines rather than imported pellets.
She is also experimenting with improving fish colour and shelf life. For the past three years she has added vitamins to her sardine feed, which extends the shelf life of freshly harvested tuna by up to five days.
Lukina Lukin continues to pursue the latest innovations to help keep Dinko Tuna ahead of the game, with a focus on delivering premium, high-priced, sustainable SBT that tastes as fresh as when it was plucked from the sea.
"For me, the next step is not to grow [Dinko Tuna] any bigger; I am going to concentrate even further on premium quality, local provenance and value-adding because, while I don't want Dinko ever to be the biggest [tuna producer], I do want it to always be the best."
More information