Long-term contributors, along with newcomers to the seafood scene, are among those to receive national recognition for their industry-leading efforts
By Catherine Norwood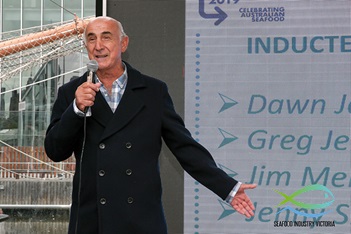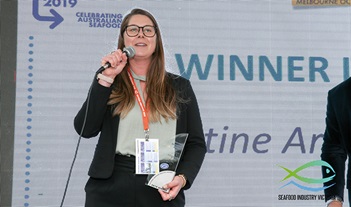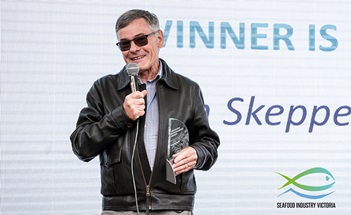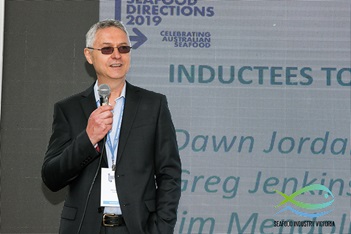 More than 400 delegates attended the biennial Seafood Directions conference in Melbourne late last year, which included the National Seafood Industry Awards, showcasing the industry's professionalism and commitment to supplying some of the finest seafood in the world.
The awards recognise and celebrate the positive contributions of individuals, partnerships, businesses and organisations towards a sustainable and profitable Australian seafood industry. Winners are as follows.
The Primary Producer Award went to Yumbah, Australia's largest abalone aquaculture producer and processor. The company was established in 1999 and now operates seven farms across four regions. Yumba produces 700 tonnes of abalone a year, most of which is exported.
Other finalists: BP Fishing (Western Australia), Mures Fishing (Tasmania).
Winner of the Business Award (Large) was MainStream Aquaculture Group, based in Victoria, which produces premium, sustainable Barramundi. It operates Australia's largest land-based warm water aquaculture facility and the world's largest Barramundi hatchery, producing and selling Barramundi juveniles globally and growing fish to market size.
Other finalists: Coffs Harbour Fishermen's Co-operative (New South Wales), Mures (Tasmania).
Perth-based Fins Seafood collected the Business Award (Small). This small, socially conscious business provides high quality fresh and frozen seafood to restaurants around Australia, and also exports to the US and Singapore. It supports its small-scale fishers with advice on branding, social media and improved production methods.
Other finalists: The Fish Shoppe (Victoria), TomKat Line Fish (Queensland).
The Safety Award went to Paspaley Pearling Company, WA, which has introduced a new training program for staff in its remote workplaces that has helped reduce medical evacuations by
56 per cent and lost-time injuries by 75 per cent.
Other finalists: Alex Thomas Pty Ltd and Limestone Coast Fishermen's Co-operative (South Australia), Professional Fishermen's Association (NSW).
Australian Seafood Industries won the Research, Development and Extension Award. This industry-owned company has been researching and breeding oysters with improved resistance to Pacific Oyster Mortality Syndrome (POMS). It has been progressively commercialising these oysters, to the point where commercial stock losses as a result of POMS are now minimal.
Other finalists: Professor Kate Barclay (Victoria), Food Sciences, South Australian Research and Development Institute in collaboration with the Institute for Marine and Antarctic Studies, University of Tasmania, and Cawthron Institute, New Zealand.
The Environment Award winner was Mendolia Seafoods from WA, which has developed a plastic-free, biodegradable Burley Brick for recreational fishers, addressing the issue of ocean plastics. The Burley Brick uses only WA fish species, to ensure any biosecurity risk is kept to a minimum. 
Other finalists: Centrostephanus Collaboration (Ralph's Tasmanian Seafood, PauaCo, Tasmanian Commercial Divers Association, Tasmanian Abalone Council); The Nature Conservancy Australia.
The People Development Award went to Flora Warrior, a traditional owner and community advocate and mentor from Mabuiag Island in the Torres Strait. She is working to develop the seafood industry, mostly Tropical Rock Lobster, for the Goemulgal people on her home island.
Other finalists: Indian Ocean Fresh Australia (WA), Jill Briggs (National Seafood Industry Leadership Program).
Australian Barramundi Farmers Association (ABFA) won the Promotion Award for the Ask for Aussie Barra campaign, conducted in partnership with Papaya PR, targeting restaurant and retail markets. With showcase events, a recipe book and high-profile media coverage of 'country of origin' labelling, the Ask for Aussie Barra campaign has reached some 423,000 people.
Other finalists: Coorong Wild Seafood (SA), Tasmanian Seafood Industry Council Eat More Seafood display at the Australian Wooden Boat Festival (Tasmania).
The Restaurant Award went to Fins Restaurant, NSW, which has been trading for 28 years, with a focus on sustainable local seafood, sourcing whole fish and seafood and finding a purpose for every part of the fish they use. 
Other finalists: Cook & Mason (WA), The Lobster Shack (Tasmania).
The national winner of the independent Judges' Choice Take-away Fish and Chips Award was Tobin Fish Tales from Queensland. Andrew and Renae Tobin are both fisheries scientists and their business is about quality fresh seafood; fish and chips; local seafood sources; sustainability; and stories about fish, fishers and fisheries.
The Young Achiever Award was presented to Justine Arnold. She is currently production manager at Indian Ocean Fresh Australia, a commercial aquaculture operation in the regional town of Geraldton, WA, and has already made a significant contribution to the aquaculture industry in the mid-west of WA.
Other finalists: Joshua Cook (NSW), Scott Mactier (Tasmania).
The Industry Ambassador Award is presented to a person who has made a substantial positive difference to the seafood industry over at least 20 years, and who has been a highly effective and respected seafood industry leader. The awardee in 2019 was Bryan Skepper, the retiring general manager of the Sydney Fish Market.
Bryan Skepper worked his way up at Sydney Fish Market from assistant accountant to general manager over 44 years and has contributed enormously to the seafood industry as a whole.
He has long championed environmental sustainability as it relates to the product and livelihoods of the people and communities from around the country who supply the market. He is also passionate about the role the seafood industry plays in protecting oceans and about the industry's social licence.
Other finalists: Bob Richards (NT), David Ellis (SA).
Inductees to the National Seafood Hall of Fame this year are Dawn Jordan (Tasmania), Greg Jenkins (WA), Jenny Shaw (WA) and Jim Mendolia (WA).
Inductees are people who have made a substantial positive difference to the seafood industry over at least 20 years, normally at a national level and often beyond the bounds of their enterprise or employment, on a voluntary basis. They have outstanding personal and leadership qualities, and are highly respected throughout the seafood industry.
Photo captions (from top right):
Dawn Jordan with WAMSI Research Director Jenny Shaw.
Collecting two awards, Jim Mendolia.
Young Achiever Justine Arnold.
Seafood Industry Ambassador Bryan Skepper.
Hall of Fame inductee Greg Jenkins.
Photos: Seafood Industry Australia