Oceans connect us all and the High Level Ocean Panel of government leaders has set a course to share the work needed and the benefits to flow from sustainable ocean environments and economies
By Catherine Norwood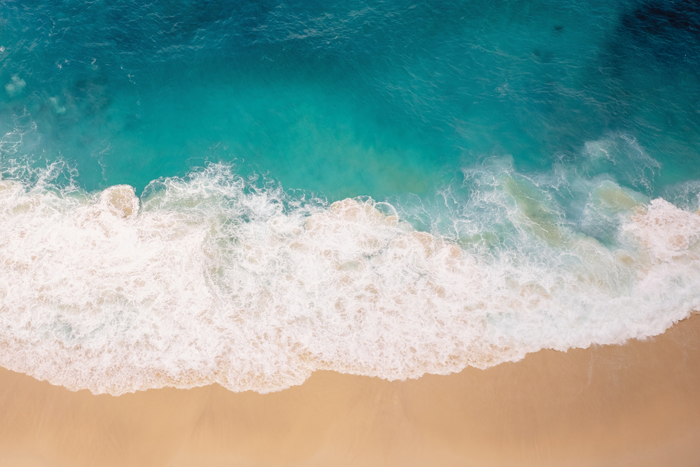 Photo: Kevin Kurek/Unsplash
Australia has formally launched its involvement in and commitment to an international action agenda for sustainable oceans and a sustainable ocean economy by 2050.
The agenda is an initiative of the High Level Panel for a Sustainable Ocean Economy (Ocean Panel), which is made up of the heads of government from 14 nations, including Australia's Prime Minister Scott Morrison. Other leaders are from Canada, Chile, Fiji, Ghana, Indonesia, Jamaica, Japan, Kenya, Mexico, Namibia, Norway, Palau and Portugal.
These countries represent almost 40 per cent of the world's coastlines, 30 per cent of the exclusive economic zones in the global marine estate, 20 per cent of the world's fisheries and 20 per cent of its shipping fleet.
Transformations for a Sustainable Ocean Economy: A vision for Protection, Production and Prosperity was launched globally in December 2020. It calls for a rapid transition to sustainable policy and practices across five areas: ocean health, wealth, equity, knowledge and finance.
The Ocean Panel is seeking to have its action agenda framework adopted by the United Nations General Assembly as part of the UN's Sustainable Development Goals program.
In a webinar launching the panel's plan, Prime Minister Scott Morrison outlined the ocean's contribution to the Australian lifestyle and economy, with a projected annual economic value of $100 billion a year by 2025.
He also highlighted challenges facing the oceans, including climate change, pollution and overfishing, and committed to preparing a national Sustainable Ocean Plan by 2025, aligned with the Ocean Panel agenda, to guide Australian actions.
Specific actions will focus on improving waste management, marine park management, sustainable fisheries, safe and efficient maritime transport, marine biosecurity and offshore energy production.
The webinar included presentations and discussions from six panellists and addressed the five themes of the agenda: ocean health, ocean wealth, ocean equity, ocean knowledge and ocean finance. Australia's Sherpa to the Ocean Panel, Russell Reichelt, first provided context for Australia's involvement and examples of Australian initiatives already underway: the Blue Economy Cooperative Research Centre and Australia's National Hydrogen Strategy.
Minister for the Environment Sussan Ley discussed ocean health, highlighting priorities to protect and restore reef systems and reduce plastic pollution, sharing initiatives with neighbouring countries.
Addressing ocean wealth, Austral Fisheries CEO David Carter says healthy oceans go hand in hand with wealth from oceans. As the world's first fishing business to go carbon neutral, he sees climate change as presenting the greatest risk to fisheries. He sees opportunities for Australia in technologies to decarbonise energy, particularly fuels used in transport and at sea. David Carter also painted an ambitious picture of a future vision that includes goals such as total traceability, no illegal fishing and full use of all the catch.
The managing director of Six Seasons Advisory, Joe Morrison, who has Dagoman and Torres Strait Islander heritage, spoke about ocean equity, saying the continuous connection of Australia's Indigenous people over more than 65,000 years is an asset to the country.
The Indigenous perspective is that people, land and water are intrinsically entwined. Participation in management and access to resources provides the opportunity to share knowledge and culture; integrating this with modern management and science will underpin a sustainable future for all.
On the topic of ocean knowledge, Andrew Johnson, CEO and director of the Australian Bureau of Meteorology, says the oceans play a critical role in weather and climate systems. A better understanding of our oceans will make weather and climate forecasting more accurate and will also be critical for the transformation now occurring in global energy systems and the use of wind, waves and sunlight as the renewable power sources of the future.
Rich Gilmore, founding principal of investment firm 7030 Capital, spoke about ocean finance and the "mindbogglingly enormous" investment and productivity opportunities of Australia's ocean estate.
He says this estate is between 2000 to 10,000 times larger than the country's agricultural estate – depending on how it is measured. With US$550 trillion of investable wealth in the world, there is enough to move the needle towards a sustainable ocean economy – we just need some smarter tools and the will to do that.
Question time
In the question-and-answer session following the presentations, opportunities for carbon capture in marine environments were identified, with Minister Sussan Ley saying she is keen to learn more about the quantifying of sequestration by seagrasses and mangroves.
Financial incentives to encourage behaviours that support better environmental outcomes were also mooted, including penalties for pollutants.
Russell Reichelt suggested aquaculture would be the focus of increased fisheries production and supported increased production of non-fed aquaculture, such as seaweeds and shellfish, which draw their nutrients from the ocean itself.
Joe Morrison suggested the inconsistent and disjointed fisheries management across Australia's fisheries jurisdictions could be addressed with a collaborative and partnership approach and by involving Indigenous people in managment, who bring perspectives that are fundamentally focused on ensuring sustainable environments.
Andrew Johnson supported the call for increased ocean literacy, saying there was huge opportunity to improve Australians' understanding of the ocean when more than 80 per cent of the population lives within 30 kilometres of the coast.
"There is a close physical connection, but it doesn't often extend beyond the horizon ... so it's really a connection with our coast, which is different to a connection to our ocean," he says. He agreed that with social media and mobile technologies there was a huge opportunity for citizen science to contribute to and extend the reach of ocean monitoring, as it already does for weather data for the Bureau of Meteorology.
Addressing a question on the potential role for ocean energy as part of a renewable energy portfolio, Rich Gilmore says the scale of the energy and economic transformation underway means every option will be tapped into. Developments in ocean wind energy are already significant globally, although there is only one active proposal in Australia. Development and adoption of new technology do not happen in a linear way, but he is confident "ocean energy's day will come ... it will get to scale when the market is ready".
You can watch the full webinar on YouTube.
---
Ocean transformation 2030 outcomes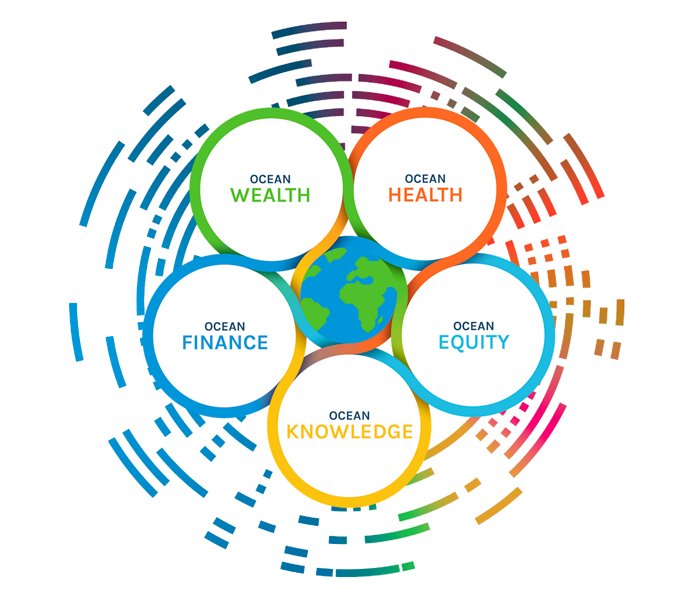 OCEAN WEALTH
Sustainable ocean food
Wild fish stocks are restored and harvested at sustainable levels, aquaculture is sustainably grown to meet global needs, and waste is minimised and managed throughout the
value chain.
Sustainable ocean energy
Ocean-based renewable energy is fast-growing and on the path to becoming a leading source of energy for the world.
Sustainable ocean-based tourism
Coastal and ocean-based tourism is sustainable, resilient, addresses climate change, reduces pollution, supports ecosystem regeneration and biodiversity conservation, and invests in local jobs and communities.
Sustainable ocean transport
Shipping investments have effectively accelerated the shift towards zero-emission and low-impact marine vessels.
Sustainable new ocean industries
Innovation and investments in new ocean industries have boosted environmentally responsible and inclusive economic growth.
A precautionary approach to seabed mining
Sufficient knowledge and regulations are in place to ensure any activity related to seabed mining is informed by science and ecologically sustainable.
OCEAN HEALTH
Reduce greenhouse gas emissions
Ambitious climate action has set the world on track to achieve the goals of the Paris Agreement and restore ocean health.
Protect and restore marine and coastal ecosystems
Marine and coastal ecosystems are healthy, resilient and productive, and nature-based solutions are key elements in developing coastal infrastructure.
Reduce ocean pollution
The ocean is no longer a sink for pollution and ocean dead zones are minimised.
OCEAN EQUITY
Promote equal opportunity for people to benefit from the ocean
People have equitable access to ocean resources, benefits are fairly distributed and the most vulnerable are protected from the risk of harm.
OCEAN KNOWLEDGE
Build ocean literacy and skills
Through the UN Decade of Ocean Science for Sustainable Development, ocean literacy has been enhanced worldwide. People understand the value of the ocean and have acquired the skills and knowledge to participate in the sustainable ocean economy.
Account for the value of the ocean
Decision-making affecting the ocean reflects the value of and impacts on the ocean's natural capital.
Harness ocean science, technology and data
A globally shared data revolution has contributed to sustainable ocean management worldwide.
OCEAN FINANCE
Sustainable ocean finance is accessible for all and drives ecologically sustainable and socially equitable economic growth.
For details of the agreed priority actions for each of the five elements in the framework visit Ocean Panel.