The twin goals of profit and sustainability are driving research into new products and value-adding processes for Australia's seafood businesses
Words Catherine Norwood  Photos Alexis Wing Huen Chung
Australia's seafood and fisheries businesses are increasingly turning to product development and more sophisticated processing to increase returns from the 'sunk' costs of producing seafood. An added bonus is the potential reduction in waste that emerges from such innovations, and the attendant sustainability credentials.
For more than a decade the FRDC has specifically invested in enhancing seafood handling, processing and product development research to reduce waste and add value. With the additional support of the Fight Food Waste Cooperative Research Centre (FFWCRC), a new swathe of industry-focused research is now underway.
Post-harvest scientist Janet Howieson, based at Curtin Universityin Western Australia, is leading two projects funded jointly by the FFWCRC, industry partners and the FRDC through its industry partnership agreements.
Image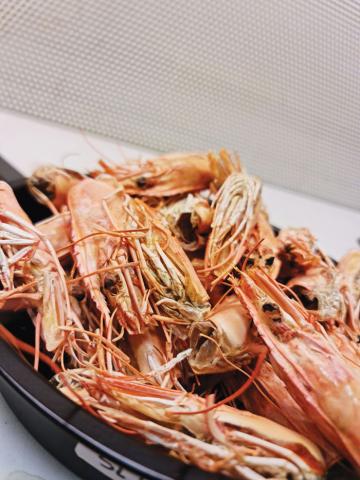 Prawn heads and shells are being dried as part of chitin extraction trials.
Photo: Alexis Wing Huen Chung
Preserving prawns
One project, with the Australian Council of Prawn Fisheries, is investigating ways to manage the discolouration of prawns – called melanosis – and subsequent waste that can occur when frozen prawns are thawed.
Part of the process includes testing alternatives to the preservative currently used to prevent melanosis – sodium metabisulfite – which can be an allergen for some people.
"Understanding the process of melanosis better will help to manage it," says Howieson. "There's very clear species differences with the progress of melanosis, and so we might be able to target preservative treatments more for specific prawn species."
She is also examining other ways that prawn fishers might be able to reduce waste and improve their profit margins. This includes reconfiguring onboard processes to optimise handling, cold chain management and packaging the prawns into smaller boxes onboard vessels. Smaller boxes reduce the need for repacking and handling that could damage the product.
"We're starting a more holistic view of onboard processing and packaging to reduce waste right from the point of harvest, drawing on international and local expertise. An important part of this work is just getting people to think about alternative processes and putting some new ideas out there."
In another, newly approved, project, Howieson will be looking at the potential for abalone viscera for use as a supplement in human and pet food products. This FFWCRC project is funded in conjunction with the Abalone Council Australia, the FRDC and pet food company All Fish For Dogs as a commercial partner. She will identify the antioxidant and other therapeutic elements within the viscera and test processing techniques designed to preserve those benefits for use as a feed ingredient.
Abalone heat treatments
Stephen Pahl, a researcher at the South Australian Research and Development Institute, a division of South Australia's Department of Primary Industries and Regions, is working on another FFWCRC abalone project.
This combines funding from the Abalone Association of Australasia, Abalone Council Australia and the FRDC to explore whether the processes of heat-treating canned abalone could be tweaked to reduce shrinkage and improve product value.
As with all canned products, abalone is heat-treated to eliminate potentially harmful pathogens. But this results in a loss of moisture from the abalone that can reduce its drained weight by up to 30 per cent. Because canned abalone is sold as drained weight, that is a significant loss for producers.
Pahl is hoping to identify areas of the abalone meat that are more at risk of pathogens, and which can be targeted more precisely with the heat treatment, while reducing the heat applied to other parts of the animal.
A small change like this would not require equipment changes – it is simply a matter of adjusting the treatment process, he says. The next step would be getting this new approach validated by regulators both in Australia and abroad.
There is a lot to be gained. "Abalone being a quite a valuable product, a small percent increase or improvement will have significant financial benefit," Pahl says. With around $70 million of canned abalone sold each year, the change could generate millions of dollars of additional revenue to industry.
Modifying heat treatment to reduce weight loss is something that abalone processors in Australia have been considering for some time, he says. They just needed something to help it along, which proved to be the support of the Fight Food Waste CRC.
Shell developments
At Curtin University's School of Molecular and Life Sciences, Howieson has other product developments underway as part of a relatively broad and ongoing stream of research for the FRDC.
One project is using drying technologies to help extract chitin from prawn peelings. Chitin, converted to chitosan, has diverse uses that range from pure-grade medical ingredients to bioplastics and fertiliser input. Chitin extraction is not a new technology, Howieson says; it is an established process internationally. What is new is the volume of prawn peelings now being generated from increased processing in Australia.
The drivers for onshore processing include travel restrictions that limit seafood freight to countries that have traditionally undertaken processing, as a result of the global COVID-19 pandemic. Another driver, says Dylan Skinns from Austral Fisheries, is the marketing advantage that comes from 'caught and processed in Australia'. "This is now a trending theme for supermarkets, restaurants and consumers. It also allows producers and sellers to claim the 100 per cent Australian made on packaging, which is seen as another marketing edge."
Austral is one of Australia's largest wild prawn producers and was already moving towards increased onshore processing prior to the pandemic; it has since increased this from 70 per cent to 90 per cent of its prawn harvest. Skinns expects this will increase to almost 100 per cent by the end of the year.
"We are processing about 300 tonnes of prawns a year into meat and cutlets, which results in 32 tonnes of prawn shells that could be used for other products."
One such product Austral has already invested in is prawn oil, produced by Seaweedery, a new business Austral sponsored through the Seafood for Good campaign it ran in 2020 in conjunction with the social enterprise start-up support organisation StartSomeGood.
Image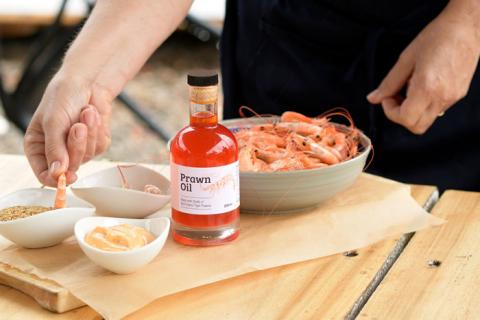 Prawn Oil, produced by Seaweedery.
Photo: Supplied
With other prawn producers also moving to process their catch locally, Howieson calculates that the increased onshore processing could provide the economies of scale needed for a commercially viable chitin extraction process and products.
She is also trialling the drying and extraction of chitin from a range of sources, including rock lobster and crabs processed in Australia and from black soldier fly larvae fed on fish waste.
"We're first trying to understand the recoveries from the different raw materials, such as green or cooked peels or heads, and the quality of the chitin and chitosan, which will determine possible end uses."
Protein reclamation
Another project underway is reclaiming shreds of meat from the frames of filleted Barramundi (Lates calcarifer), Atlantic Salmon (Salmo salar) and Patagonian Toothfish (Dissostichus eleginoides). The latest version of this protein reclamation research is developing a fish jerky. A previous iteration successfully created a seafood snack product and, less successfully, trialled extrusion processes commonly used in other food processing sectors for products such as pet foods, pasta, breakfast cereals and snacks.
Image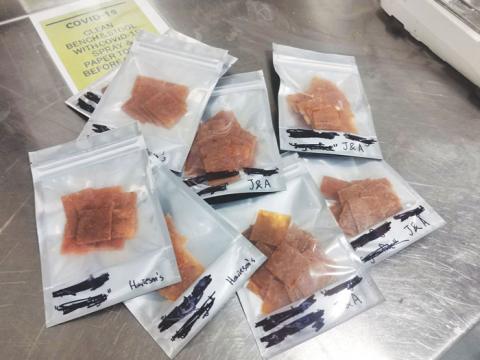 Fish jerky samples. Photo: Alexis Wing Huen Chung
Howieson reports a rising interest in adding value to byproducts from seafood businesses in recent years. "There has definitely been a cultural shift in recent years. My focus is on the development and proof of concept for value-adding processes or products, and there has been an increasing number of enquiries from businesses looking to do more with what they have, including 100 per cent utilisation. The most successful projects, in terms of adoption, are those with strong industry buy-in," she says.
Recent examples include new handling practices to support the commercialisation of scampi roe and pearl oyster meat as premium seafood products. Another is the development of an enzyme-based process to replace acid hydrolysis of seafood offal for fish processor SAMPI in South Australia. Hydrolysis breaks down the waste into its chemical components. The resulting hydrolysate is used as an ingredient in products such as pet foods, aquafeed and fertiliser. The new process has reduced processing time, increased yield and increased the quality of the hydrolysate, effectively increasing its value.
The FRDC's general manager for strategy and innovation, Matt Barwick, says stakeholders highlighted the importance of new product development and adding value to existing resources that would otherwise be wasted during the development of the FRDC's 2020–2025 Research and Development Plan. This issue is also integrated into the broader stakeholder 'Fish Forever 2030' vision that emerged from the planning process.
It is an approach that can broaden markets with new products and even initiate new businesses, effectively "growing the pie" Barwick says, to feed greater prosperity for the seafood sector and diversify benefits across the community.
---
The sum of seafood waste
While the Fight Food Waste Cooperative Research Centre (FFWCRC) is already funding specific projects to address identified food waste issues, it is also working to better assess the size of food waste across the entire Australian economy. Its initial national waste benchmark study, released in 2019, will be updated and re-released this year.
Internationally, the United Nations' Food and Agriculture Organization says waste in the seafood industry is a particular concern, with an estimated 35 per cent of all fish and seafood being wasted globally.
Measuring seafood waste in Australia is a challenging issue, due in part to the disparate nature of seafood processing across the country and, in some instances, at sea, which complicates waste volume calculations. The filleting of fish, for instance, might occur onboard a vessel, at a centralised processing plant, or at one of many hundreds of fishmongers or food service businesses anywhere in Australia. For many finned fish species, only 30 to 40 per cent of the fish is recovered for sale after filleting; the rest becomes waste.
FRDC-funded research published in 2016 calculated seafood waste volumes from Australian processing of wild and farmed seafood at more than 55,000 tonnes per year. This data provided the basis for figures in the FFWCRC benchmark report; however, it does not include bycatch – seafood caught at sea but discarded.
Bycatch is a controversial form of waste. Not all bycatch dies, and survival rates can be improved using specific handling techniques. The catch that does die is lost to reproductive fish populations, but it will enter the marine food chain in some way, which is not the case for waste that ends up disposed of and compacted in landfills.
Furthermore, bycatch always represents a potentially avoidable cost to fishers in harvesting a catch that is then partly discarded for a variety of reasons that range from fishing regulations and quotas to market preferences. In hand-harvested fisheries, such as abalone, there is no bycatch. In others, such as some ocean trawl fisheries, bycatch might exceed the retained catch. And commercial fishing requirements to keep records of bycatch also vary across fisheries and fishing jurisdictions.
Commenting on the challenges of calculating seafood waste, the FFWCRC CEO Steven Lapidge says when it is difficult to gather the data, it is difficult to identify the size of the problem.
"And if you don't know the size of the problem, generally you don't do anything about it. However, if we're going to claim we're clean and green, this is something we really need to be looking at and addressing," Lapidge says.
---
FRDC RESEARCH CODES
2013-711.40, 2014-704, 2016-223, 2016-22
More information
Janet Howieson, j.howieson@curtin.edu.au