Published:
14 September 2023
Updated:
3 October 2023
Back to News
FEEDBACK/STORY SUGGESTIONS
FRDC
+61 2 6122 2100
frdc@frdc.com.au
Have your say
You're invited to participate in a FRDC online discussion to help shape FRDC's future focus and strategic investments. 
Image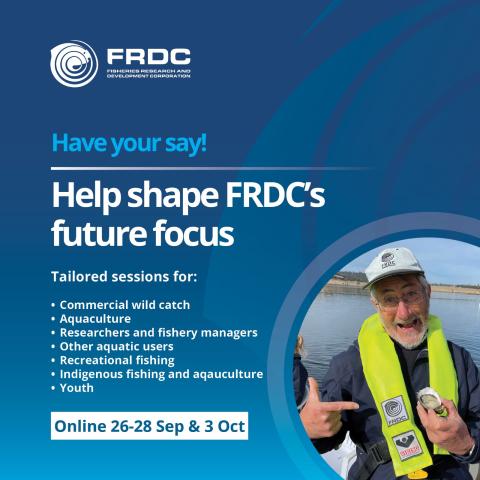 The discussions will be facilitated by experienced moderators and provide an opportunity for you to share your insights and perspectives on the future of fishing and aquaculture. 
WHO:
Anyone with an interest in fishing and aquaculture, or other aquatic users, are encouraged to participate.
WHAT:
One hour online discussions to help shape FRDC's future focus and investment approach. 
WHEN:
26-28th September and 3rd October 2023
WHERE:
** All events are now concluded **
There are seven different online discussions. Register now for the group you feel is most applicable to you:
FRDC thanks you for investing an hour of your valuable time to help to inform our future.
CONTACT
If you have any questions, please contact kylie.dunstan@frdc.com.au