Published:
26 October 2023
Updated:
30 October 2023
Back to News
FEEDBACK/STORY SUGGESTIONS
FRDC
+61 2 6122 2100
frdc@frdc.com.au
FRDC supported individuals from all over Australia to attend a Fisheries Management Course in Wollongong - where they learnt, developed, and mastered the profession of sustainably managing a fishery.  
One of the lucky FRDC-sponsored participants was Industry Liaison Officer at the Western Australian Fishing Industry Council (WAFIC), Tessa Ramshaw, who travelled all the way from Fremantle to the University of Wollongong, for the five-day fisheries management course.  
In Tessa's current role she is responsible for undertaking environmental impact assessments on coastal and offshore industrial developments and assessing the cumulative effects on commercial fisheries.  
As an early career professional at WAFIC, Tessa applied for the Course to improve her understanding of fisheries management and provide expert decision-making on significant management directions affecting Western's Australia commercial fishing sector.  
"Having started my professional career in aquaculture, fisheries management is still relatively new to me. Unless you're involved in it [day-to-day], it can be hard to know how everything works and how it came to be." 
"It was awesome to be given the opportunity to go into a specialised short course format which was targeted at entry-levels, and to be able to have a lecture about topics that delved deep into what the terms and concepts really mean."  
She also hoped her attendance would help forge collaborative ties with course presenters and other participants operating in fisheries management. She was also keen to engage on national topics and issues. 
"Increased inter-institutional relationships across different jurisdictions is incredibly valuable for helping knowledge exchange that benefits the overall industry." Tessa says.  
"…it was a great opportunity to bounce ideas off participants, who were all from different backgrounds and jurisdictions - essentially like when you go to Uni."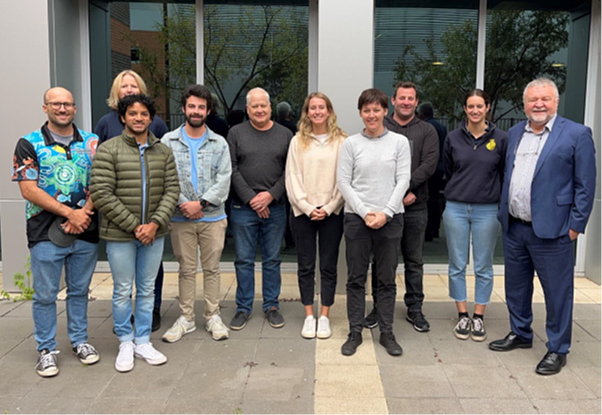 Group photograph of FRDC bursary holders who attended the Fisheries Management short course 2023. L to R: Tyson Martin, Ruth Sharples, Aaron Moses, Asher England, Robert Chewying, Tessa Ramshaw, Elisha Lovell, Craig William Fox, Matilda Adamson, Alistair McIlgorm, Dr Christine Kershaw (not pictured) 
The course leader, Professor Alistair McIlgorm, has been running fisheries management courses since 1990. In 2022, while at Seafood Directions, Alistair was notified that domestic fishery agencies were interested in staff development for fisheries management. A new course was developed and circulated to fishery directors in April 2023, allowing the further development of emerging fisheries management leaders.  
The course was hosted at the Australian National Centre for Ocean Resources and Security and provided participants with a detailed summation of fisheries management and knowledge to enhance leadership capabilities and capacity throughout the fishing sector. 
Key themes from the course included fisheries management processes, stock assessment, governance, and social psychology. These were presented by Alistair along with other highly regarded researchers and scientists.  
One of Tessa's highlights from the course was blue economy, and how it relates to the sustainable use and development of ocean space. She says that as offshore renewable energy emerges, approval processes need to consider co-existence and collaboration as a guiding principle, so that the interest of one party does not come at the expense of another.  
"It was exciting to see that what WAFIC are doing [in this area] is really nation leading.  
"The content and discussion gave me further confidence to co-investigate in an FRDC Project [2022-104]. This is a wonderful opportunity as an early career professional."   
"The course really backed-up the consensus that there are so many complexities involved in fisheries management, so many things you need to consider. It's such an interesting and super challenging space - that's why I love it!"
Related FRDC Projects
2022-104: Review and quantify the cumulative effects of expanding industrial coastal developments and emerging offshore renewable energy on the fishing industry in WA