Back to News
FEEDBACK/STORY SUGGESTIONS
FRDC
+61 2 6122 2100
frdc@frdc.com.au
The FRDC Board visited Darwin for its June Board Meeting and took the opportunity to meet with a range of fishing and aquaculture stakeholders.
The site visits commenced with an early morning walk along Stokes Hill Wharf with David Ciaravolo Executive Officer of the Amateur Fishermen's Association of Northern Territory. He explained how the installation of artificial reefs around Darwin harbour and along the wharf had enhanced habitats and nutrient flows for local fish such as Mackerel, Tuna, Jewfish, and Snapper and helped with remote monitoring via underwater cameras.
Next stop was the Darwin Aquaculture Centre on Channel Island, where Program Leader Matt Osbourne and the team of marine scientists gave a guided tour of the facilities, including the spawning, hatchery and maturation tanks and the algae production operation, all of which support their work with species such as Jewfish, Black Lip Oysters and Barramundi.
The group then visited Aboriginal Bush Traders, a 100% not-for-profit organisation committed to selling ethically sourced and sustainable products that directly support local Indigenous communities. The retail shop and café in Smith Street Mall is managed by Samoane Regattieri, who provided insights on the various artworks, bush medicines, skin care products, clothing and textiles available, as well as the bush foods on offer in the café and catering business.
In the afternoon, representatives from the Aboriginal Sea Company, the Northern Land Council, NT Seafood Council, Humpty Doo Barramundi and the Amateur Fishermen's Association of Northern Territory presented their key issues and research priorities to the Board and FRDC staff present.
Image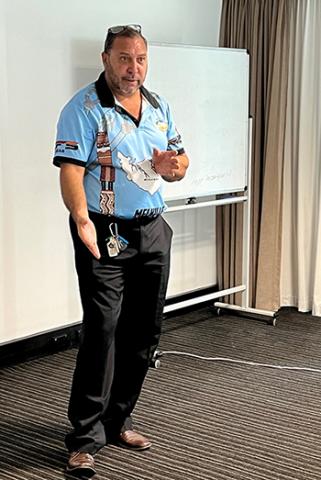 James Parfitt (Fejo) of Larrakia Nation Aboriginal Corporation, delivered a powerful Larrakia Welcome to Country before the Board meeting on day two of the visit. The Larrakia are known as "Salt Water People" and their lands extend approximately 50km inland from Darwin, across the harbour and covering all the land and water in between.
James shared the sentiments of the Larrakia people in his address:
"Because the Larrakia people come from a culture of caring and sharing, we know that it takes people with professionalism, exceptional skills, empathy, heart and dedication to work in the areas that you work in.
The research that you do and changes you help make will impact on Australians for generations to come. Our world and environment has to be left better than we found it… you are the minds who guide the hands that help make sure our fishing and oceans are protected and doing this with research and development will help sustain our fishing and lands into the future.
I am so glad that you are visiting Aboriginal people and organisations, as we have been watching, observing, studying and understanding these lands for 60,000 years, we have been looking after and preserving Country for that long."
The FRDC Board very much appreciated the time and contributions of all the representatives and organisations and found these engagements extremely valuable preparation for their Board discussions.