Fishers and their reasons for fishing are as diverse as the species targeted, but Western Australian research is uncovering common values around restocking estuaries
By Bianca Nogrady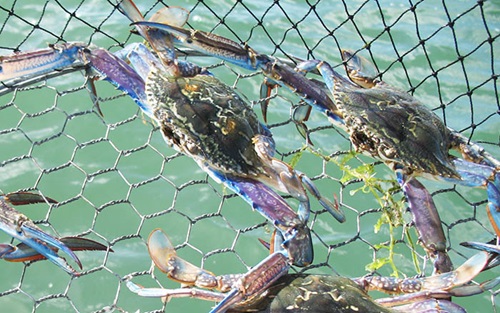 The social and economic benefits of commercial and recreational Blue Swimmer Crabs fishing are being assessed in Western Australia.
Photo: James Tweedley
Traditionally the most studied aspect of a fishery is the fish.
Take any major commercial or recreational fishery in Australia – chances are its fish species will have been studied extensively. But there's another relatively unstudied creature that is also a key player in fisheries: fishers.
Marine biologist James Tweedley, a lecturer at Murdoch University, is working with colleagues and research students on a three-year study of recreational and commercial fishers, funded by the FRDC. They are focused on two iconic Western Australian fisheries, in the Peel-Harvey and the Blackwood estuaries.
"In Western Australia we have some fantastically well-managed fisheries, but their indicators are mainly based on biology," James Tweedley says.
He has long been interested in estuary management and how to improve fishing through habitat restoration and 'aquaculture-based enhancement' – the release of cultured juveniles to enhance fisheries. But these initiatives cost money.
His aim is to get a better understanding of the social, economic and biological returns of these small-scale fisheries – why people fish, how they fish and, most importantly, whether they are open to new approaches. These questions have serious implications for fisheries management.
"I wanted to get a handle on the level of fisher support for this type of management intervention, and the costs and benefits of doing it," he says.
To do this, he and the team decided to focus on the recreational and commercial Blue Swimmer Crab (Portunus armatus) and Black Bream (Acanthopagrus butcheri) fisheries in the Peel-Harvey and Blackwood estuaries in WA.
James Tweedley
Marine biologist, Murdoch University
"We're doing this as a case study to develop the science to help predict the social, biological and economic changes that might happen if we restock, and whether it is likely to give us a good return on investment," James Tweedley says.
The first step of the project, which began in mid-2017, has been to understand who uses these fisheries, why, and what these fishers think about the idea of restocking. The team conducted a series of surveys and found a big difference in the motivation of those fishing for Blue Swimmer Crabs compared with those targeting Black Bream.
Commercial fishers were more motivated in their work by lifestyle and a family tradition of fishing rather than being driven to make huge profits in their businesses. In the recreational sphere, crab fishers were almost exclusively foodies who wanted to collect enough crabs to feed their family or friends; recreational bream fishing was seen as a catch-and-release sport fishery.
That also meant recreational fishers' spending on equipment varied between fisheries. Blue Swimmer Crabs can be easily caught walking along the shoreline with a scoop net and bucket; Black Bream requires fishing rods and tackle, and often a dinghy or kayak as well.
The research team also wanted to understand fishers' attitudes towards restocking and, in particular, whether they would support it both as a concept and financially.
They found that, overwhelmingly, recreational fishers in the fisheries were supportive of restocking and were also aware restocking was not a magic bullet for a flagging fishery; it has risks and trade-offs.
The second phase of the research project, which involved surveying fishers during the 2018-19 summer, will evaluate the economics of restocking – whether fishers are willing to support it, for example, by paying a licence fee to fund it, or whether the economic benefits that recreational and small-scale commercial fishers bring to an area compensate for the costs involved.
FRDC RESEARCH CODE: 2016-034
More information
James Tweedley, 08 9360 2823
J.Tweedley@murdoch.edu.au
Golden Fish