As a long-time fisher, and current chair of the Australian Maritime Safety Authority, Stuart Richey reflects on the trends and challenges  for the Australian seafood industry and the safety of its marine workplaces
By Stuart Richey AM, Chair, Australian Maritime Safety Authority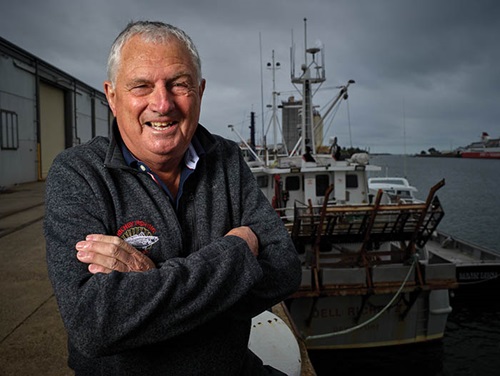 Stuart Richey, Chairman, AMSA.
 
Photo: Peter Whyte
Current trends indicate that the consolidation of fishing entitlements and quota in the industry is going to continue. The downside to this is that regional communities may suffer as smaller operators sell up.
On the positive side, it will bring a more corporate culture to the industry and with that will come more emphasis on safety.
There is no doubt there will be more changes in the way quota is owned and held as an investment. It is likely this will come with tensions between those who own and those who actually fish the quota.
Profitable fishing
We will need equitable share-lease arrangements that allow both parties to make a reasonable return. 
The need to fish profitably is driving the consolidation and, in the long term, I think it will bring more investment in larger, more sophisticated and safer boats.
The average size of a fishing boat at the moment is probably between 18 and 24 metres. There will be fewer boats and I think we will start to see more boats in the 30 to 35-metre range. They do not need to be a lot bigger, but they need to be more efficient, with better onboard fish handling facilities. There needs to be a real focus on maintaining the quality of the catch.
I can also see more vertical integration and less reliance on wholesale markets occurring in the industry, from catching through to processing, value-adding and sales. None of this will happen overnight, but it will happen.
Safety steps
Some industry peak bodies, fishing businesses and the FRDC are already proactively working with regulators to get the safety message out, but we need more operators and more industry bodies involved Australia-wide.
Initiatives include developing training and safety modules and safety videos, holding safety management system workshops and investigating barriers to adopting a safety culture. These should be seen as the first steps in ongoing safety messaging.
The safety management systems (SMS) introduced to the fishing industry recently may be a new concept for fishers, but these systems are standard practice in many other industries.
Previously a vessel was assessed as safe during an annual survey. In reality, it might only have been safely fitted and equipped on that one day of the year. What about the other 364 days?
A safety management system is about making sure the workplace is safe all year round, with someone specifically designated to be responsible for that system, and a process in place to identify and mitigate risks.
Over time, this new process of continuous safety monitoring will become standard practice. There will also be a generational change in the industry; many younger fishers are already being more proactive in addressing safety.
Old fleet issues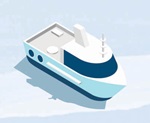 Just as we have a lot of older fishers and skippers, we also have an old fleet; some of our boats are 40 years old. They continue to operate legally, but that is because the safety standards have been 'grandfathered' – the boats are exempt from current safety standards.
We need to address this issue urgently.
Take, for instance, the safety railing around the edge of a boat. Under the old code, the standard height was 800 millimetres. But the average person is now taller than they used to be, and at 800 millimetres the railing acts as a tipping point to help you fall over the side faster. The contemporary height for a safety railing is 1000 millimetres.
Some of these boats end up on the market as 'suitable for recreational fishing' – boats that used to have a licensed skipper and at least an annual survey of safety equipment. To me, it is frightening that relatively unskilled operators can go to sea with family and friends in former commercial fishing boats that do not meet current safety standards.
Legal realities
Many countries are now mandating that crew wear personal flotation devices (PFDs) on deck, and recent coronial inquiries in Australia are also pointing to this.
Just as miners and construction workers wear hard hats and steel-capped boots on-site, fishers should be wearing PFDs.
If the industry does not voluntarily take steps to ensure that crew wear PFDs on deck, regulations will have to be introduced to mandate it, and nobody wants to see more regulations. With the current style and low cost of PFDs there is no excuse not to have them on hand. Fishing boats are workplaces. It is essential that business owners and company directors provide employees with a safe workplace. When people are injured or die, lawsuits are inevitable.
As the industry moves towards a more corporate culture, we will see aquacultural and wild fishery managers deliberate more on safety and the associated legal risks.
Without a doubt, changing the safety culture in the industry is an enormous challenge. Fishing has to lose the tag of being the most unsafe job in Australia. The daredevil culture that rewards those who can work in the biggest seas or the longest hours is not the kind of culture we want to instil.
Change at sea
Having new vessels with fewer but better-trained crew will help improve safety. Though there might not be fully autonomous systems on vessels, there will be more use of autonomous systems, and increased control or monitoring from shore. That is something to look forward to.
The other big issue that I see is the need to reduce greenhouse gas emissions and decarbonise fuels while improving the fuel efficiency of vessels. There is already a push for alternative fuels, including hydrogen and ammonia.
New fuels will bring a whole new set of regulations, new safety structures and skillsets, as well as new boats. I do not think battery power alone is going to be the silver bullet, but maybe a combination of alternative fuels generating electrical power for electric drive systems will be the way of the future.
All this will be difficult to achieve in isolation.
It will take a concerted effort by industry, research agencies and government to create the new systems needed and the incentives to support adoption by industry. This might include reintroducing the government 'bounty' to encourage owners to invest in new vessels and technology.
Energy efficiency is a must to reduce greenhouse gas emissions but also to make fishing businesses more profitable. And, as with safety, it needs to be built into anything we are doing in future. Exciting times ahead!