The Indigenous people's valuable contribution to the fishing sector is being integrated into Australia's fishing policy and practices
By Gio Braidotti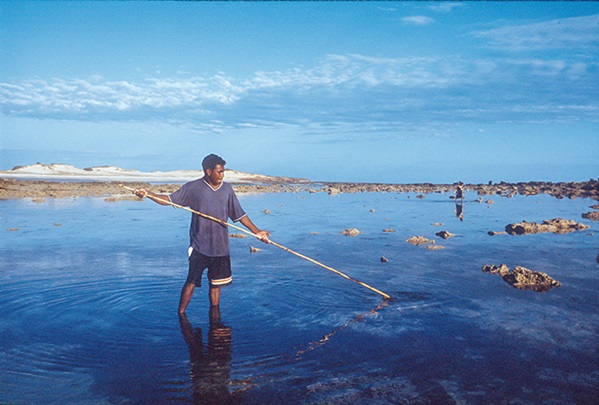 Access to fisheries resources is an important part of cultural practices and self-determination for Indigenous communities.
Photo: Brad Collis
When seen through the eyes of Indigenous people, Australia is a different country to the one inhabited by the mix of more recent arrivals that today calls Australia home.
Both segments of Australian society have a connection to 'country'.
But these connections are culturally, linguistically, socioeconomically and environmentally quite different.
The more recent arrivals have a new sense of connection; they are racing to understand the continent. The Indigenous connection to country is ancient and integrated with the ecologies, biodiversity and cycles of change that make Australia unique.
Within the fisheries sector, the FRDC and the Indigenous Reference Group (IRG) want to bring about a faster rate of recognition and respect for the holistic understanding contained in traditional fishing knowledge.
Clear directions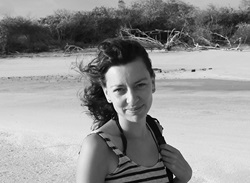 Leila Alkassab
Land to Sea Consulting
In 2019, Leila Alkassab of Land to Sea Consulting took an important step in this endeavour, leading research designed to clarify the steps needed to more quickly effect change.
In her most recent work, she has been trawling through the hundreds of pages of research findings produced by eight previous FRDC-funded IRG projects to extract and synthesise the key research findings.
Her work involves processing information from the technical reports to create easy-to-understand, relevant messages that raise awareness about actions needed.
"I think Australia has come a long way in recognising Indigenous peoples' interests in environmental management in terms of their knowledge, cultural practices and livelihood needs," Leila Alkassab says.
"The research that is coming out of the FRDC–IRG further develops these understandings and provides a platform to share knowledge within and between fisheries stakeholders, including Indigenous communities, researchers and policy makers." She reports the work is progressing well.
She has already identified five key messages, or objectives, from the very detailed reports she is reviewing. These relate to findings that repeatedly cropped up across different research topics (see Figure 1).
These five key messages are centred on recognising cultural fisheries as a distinct sector that already has its own management practices. These practices reflect Indigenous peoples' distinct connections to land and sea territories, connections that balance the economic and sociocultural aspects of fishing.
Self-determination
Reflected in all of the messages Leila Alkassab has identified is the need for self-determination in Indigenous fisheries, which is also a key priority area for the FRDC–IRG.
"Decisions regarding the Indigenous fisheries must be driven by Indigenous communities themselves, because their livelihood security and their cultural continuity depend on these aquatic resources," she says. "This is why the key messages coming out of these projects are so very significant."
Indigenous woman Hanna Gallagher, of the Kamilaroi nation, agrees. Completing her third year of a Bachelor of Science, she is working on this FRDC–IRG project to build her professional skills while contributing in an area she is passionate about.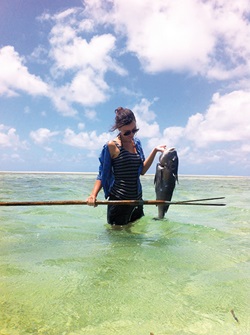 Leila Alkassab has spent time among Indigenous fishing communities in the Torres Strait Islands, where she learnt to fish.
Photo: Ted Nai
Her involvement in the project is part of the IRG's goal to build capacity of Indigenous people by providing mentorship opportunities with research projects.
"More than just improving cultural fishery rights, the project also creates the opportunity for representation of Indigenous worldviews in policy, especially our unified view of land and sea," Hanna Gallagher says.
"It's also exciting for me because at every level the project involves capacity building with Indigenous Australians, which will help to increase the voices of Indigenous communities in future policy decisions."
One of the clearest links between self-determination and the messages Leila Alkassab has identified is in fisheries policy (Message 3). She says disjointed Indigenous fisheries policy context across states, territories and the Commonwealth tiers of government has limited Indigenous self-determination, and this needs to be addressed.
Particularly problematic are holdovers from state policies and practices that often restrict Indigenous peoples' ability to use fisheries resources to maintain their cultural practices and their knowledge systems.
"Indigenous fishers historically became barred from directly managing their lands and waters by stringent government policies that took away the very resources Indigenous communities relied on for their livelihood security," Leila Alkassab reports.
"Decision-making in the fisheries became something that belonged to government agencies and scientific managers." Redressing this imbalance in decision-making will also help in achieving another of the objectives Leila Alkassab has identified: economic empowerment.
Mutual benefits
The information being compiled in Leila Alkassab's project points to the emergence in the fishing sector of a fully-fledged third arm, encompassing both 'subsistence' and 'economic' fishing activity.
This may catch some unaware and the prospect of additional claims to limited resources, or of joint management regimes, may cause consternation.
Additional RD&E may be required to resolve issues of access, impacts and capacity, but Leila Alkassab sees far more opportunities for mutual benefit for various stakeholders in the fishing sector than for disagreement.
The mutual benefits would include better-informed overarching fisheries management protocols. Already such protocols are moving towards ecosystem-based fisheries management (EBFM), an integrated model that encompasses social and economic considerations. Such integrated models can only benefit from the inclusion of Indigenous values and priorities via joint management arrangements.
"Through scientific and social science research, the FRDC–IRG is creating channels to understand and communicate Indigenous fishers' sociocultural and economic priorities, values and challenges in their own words," Leila Alkassab says.
She says the initiative holds "opportunities to unlock unrealised benefits" for Indigenous communities, for the state and for the environment in the fisheries, moving forward into the future.
The five key messages developed to date may be further refined as the project continues. It is expected to be completed by the end of the year.
---
FIVE KEY MESSAGES
for the development of Australia's Indigenous fisheries
1 Cultural fisheries
RECOGNISE
Recognise cultural fisheries as a distinct sector by all states, territories and the Commonwealth.
RESPECT
Respect Indigenous rights, values, world views and knowledge that are essential to cultural fishing.
ACKNOWLEDGE
Acknowledge that cultural fisheries encompass complex systems of ecological knowledge, ownership, management, preservation and trade of aquatic resources (in addition to ceremonial and subsistence practices).
ADDRESS
the barriers to cultural fishing;
the impacts of non-Indigenous sectors on cultural fisheries; and
the diverse views within Indigenous communities about including commercial activities within the definition of'cultural fisheries'.
2 Governance and management
INCLUDE
Include Indigenous aspirations and priorities in fisheries governance and management for greater Indigenous decision-making.
INCORPORATE
Incorporate representatives of Aboriginal and Torres Strait Islander people on fisheries departments, boards and organisations, as a path to joint management.
3 Legislation and policy
ADDRESS
Address the disjointed policy context regarding Indigenous fisheries across states, territories and the Commonwealth, potentially through a national Indigenous fisheries framework.
4 Economic empowerment
ACKNOWLEDGE
Acknowledge that trade and barter have always been and continue to be a part of cultural fishing.
RECOGNISE
Recognise that the economic values of fishing do not take priority over the social and cultural values of fishing, and therefore maximum utilisation may not be a priority for Indigenous fishers.
CREATE
Create space for a sector that supports the interconnected values of Indigenous fishers and reflects the cultural economies of Indigenous peoples in Australia.
5 Capacity building
INVEST
Invest in capacity-building initiatives that are identified by Indigenous peoples.
SUPPORT
upskilling Indigenous fishers;
opportunities for decision-making;
knowledge sharing to facilitate
proactive engagement with Indigenous fishing communities.
EDUCATE
Educate non-Indigenous fisheries stakeholders through cultural awareness training programs.
---
FRDC RESEARCH CODE: 2018-183
More information
Leila Alkassab
Leila@landtoseaconsulting.com