Published:
19 May 2022
Updated:
1 August 2023
Riverside Stories
People want to have a say about what happens to their river. We're listening.
Riverside Stories is a series of perspectives that we collected as we travelled through Australia. It captures the aspirational vision we all share: healthier rivers, vibrant native fish communities and productive, prosperous communities.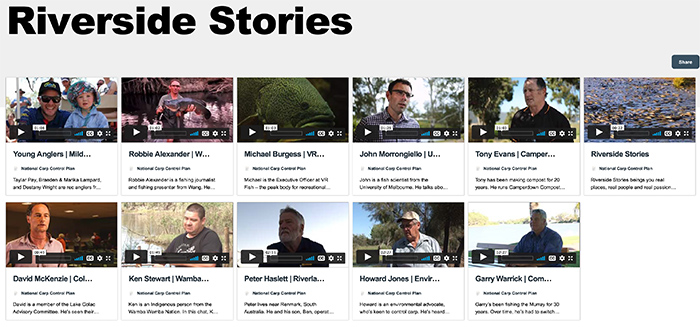 The NCCP is assessing ways to control carp impacts, with significant research, community engagement and planning. However, it isn't just about carp – it's also about our shared environment & economy, our shared communities & cultures, and our shared future.
Waterways are the lifeblood of many rural and regional communities. That's why the process of the NCCP is so important. It cuts across so many areas of our lives, from policy and politics, to science and society. Carp impact everyone, we have to solve this challenge together.
We know there are other issues affecting our rivers: altered flows, cold-water pollution, habitat loss, water quality, and infrastructure etc. However, a lot is being done to address those impacts – we need to get carp out of the way to get the most from those efforts.
That's why this series isn't about being 'for' or 'against' potentially using the carp virus. Instead, it's about generating a discussion around how we might realistically tackle carp at the continental scale and what that might mean for all of us.
We hope you enjoy listening to the different views and can help us get the nation talking about working together to solve the carp problem.
Acknowledgements
Di Farmer & Kelvin Berry | Wangaratta, Vic.
Di Farmer & Kelvin Berry have been fighting 'rubbish' carp in the Ovens River. They're part of the Wangaratta Sustainability Network, and have partnered with the Arthur Rylah Institute to give native fish a hand. But, after 2 carp musters and thousands of carp removed, it's still a daunting task.
Thanks to ARI for allowing us to film aboard their electrofishing boat, Goulburn Murray Water for access to Yarrawonga Weir, and Di Farmer for images of the carp musters.
---
Robbie Alexander | Wangaratta, Vic.
Robbie Alexander is a fishing journalist and fishing presenter from Wang. He loves his carp fishing, as well as chasing natives like cod, but he knows - as fun as carp are to catch - our rivers will be better off without them at such high numbers.
Thanks to Robbie for providing some footage from his YouTube channel.
---
Michael Burgess | VR Fish
Michael is the Executive Officer at VR Fish – the peak body for recreational fishers in Victoria. He talks to us about the high level of community interest in controlling carp, to support native fish recovery across the state.
Visit VR FISH.
---
Dr John Morrongiello | University of Melbourne
John is a fish scientist from the University of Melbourne. He talks about a need to understand the ecological role of carp in our waterways and ensuring that resources are available to keep an eye on how things progress over the next decade, if actions are taken to control carp at a large scale.
Visit John's lab website or check out the FAQ on prey switching.
---
Young Anglers | Mildura, Vic.
Taylar Pay, Braeden & Marika Lampard, and Destany Wright are rec anglers from Mildura. They chase cod and goldens on lures along the Murray River. They're looking to the future and hoping for one filled with big native fish that their kids can enjoy.
Check out the Nangiloc Fishing Club, home of the Stress Less Fishing Classic, and Ozfish Sunraysia.
---
Mike Gilby | Mildura, Vic.
Mike is a Barkandji man from Bourke, on the Darling River. Barka means river and ngji means people – so Barkandji means river people. Mike attended the stakeholder consultation workshop in Mildura, providing input from an indigenous and state government perspective, across the cultural, social and environmental aspects of restoring native fish. Mike talks about the opportunities in programs like the NCCP.
---
Tony Evans | Camperdown, Vic.
Tony has been making compost for 20 years. He runs Camperdown Compost Company, who help people improve the condition of their soil. In this episode of Riverside Stories, he tackles the question of 'could dead carp be used for fertiliser?' His solution is a decentralised processing approach, like the one he's been using to process over 100,000 tonnes of compost every year, with a team of just 6-7 people. Fortunately, the NCCP has funded a project looking into uses for carp.
Thanks the Tony for providing some footage of their operation. You can find out more about that at Camperdown Compost Company.
---
David McKenzie | Colac, Vic.
David is a member of the Lake Colac Advisory Committee. He's seen their lake carp free: twice! The water cleared, the vegetation rejuvenated, waterbirds started nesting. Now, the carp are back, muddying the water. Here, David shares his hopes for a carp-free future.
---
Howard Jones | Environmentalist
Howard is an environmental advocate, who's keen to control carp. He's heard the stories of seeing through the water in our major lowland rivers and seen, first hand, the impacts of carp. He talks about history, carp and the community in this episode of Riverside Stories.
Howard says it matters to him, "because I've wandered around swamps, rivers and creeks all my life and noticed things had gone 'pear-shaped'.
---
Peter Haslett | Riverland Fruit Grower
Peter is a farmer from Murtho, near Renmark, South Australia. He and his son, Ben, operate Woolenook Fruits. They draw water from an important part of the Murray River and have seen carp numbers grow over the years. They've had issues with carp getting sucked into their irrigation system and blocking their filters. In this video, Peter touches on the duty of care we have for future generations and the importance of adopting a pragmatic, can-do attitude to tackling carp.
Find out more about our consultation activities that are now closed.
---
Garry Warrick | Commercial Carp Fisherman
Garry's been fishing the Murray for 30 years. Over time, he's had to switch from native fish to carp. Now, carp represent a significant chunk of his revenue. The species supports his business, and the businesses of many of his customers, who use carp as bait for crays. Here, he questions how carp could be cleaned-up, suggests fishers might contribute their understanding and looks forward to a future with less carp. The clean-up is being investigated by four intersecting pieces of research funded by the NCCP: clean-up strategies, biomass estimation, disease modelling and using biomass.
---
Ken Stewart | Wamba Wamba Traditional Owner
Ken is an Indigenous person from the Wamba Wamba Nation. In this chat, Ken talks about the current-day carp plague and his memories of fishing as a kid. Je raises his concerns around non-target species, water quality and having a flexible approach to a potential clean-up. These are things being examined through NCCP-funded projects on oxygen modelling, blue-green algae and clean-up strategies.
Related projects
See the related research projects